Free Online Poker In The U.S. - Play Online Poker For Free
There is great demand for websites that have free online poker for U.S. players and for good reason. Free play can be equated to practice if you take it seriously enough. For that reason, playing online poker for free is a great way to hone your skills so that you are on top of your game when you do play for real-money.
No one here at OnlinePokerLaws.com became adept at online poker by just being lucky and getting good cards. We've all worked at it and regular practice is pretty much a formula for success that all the best go by. Stay here with us and we'll show you the best sites where U.S. residents can play poker for free plus give you a few tips on what you should be trying to accomplish.
Benefits Of Playing Free Poker Online
There are many benefits to being able to play for free, some we touched on earlier. A lot of these are obvious but we should point them out because they are valid points that can help new users.
It's free! It costs absolutely nothing in order to sign up for an account, download the poker client or enter any of the free ring-games + freeroll tournaments offered by poker sites with free play.
Try the poker software before committing to play poker for real-money, if finding a place to play for real is your ultimate goal. Some sites offer free poker player tools that others do not.
Builds confidence! Having confidence is key for anyone new to online poker or poker in general. If you've never played online, it can be intimidating. But knowing that it doesn't cost anything makes acclimation to the online game much easier and a whole lot less stressful.
Sharpen your skills and practice new poker strategies for whatever game you are playing. Helps players prepare to actually implement new techniques when playing real-money tables/tourneys.
Ability to expand your skill set by trying new games without a financial commitment; the ability to learn the ropes of an unfamiliar game before jumping in with serious players.
Most websites offer free poker tournaments which can pay cash or entries into cash tournaments. Playing poker for free can actually put money in your account thus giving access to cash games.
Drawbacks Of Playing Online Poker For Free
We've learned a lot about the advantages but now we're going to give you an idea of some things to that you should pay attention to. These aren't necessarily down-falls, but you should be aware of what you are actually dealing with.
Bad play! That is the number one thing to remember when playing for free. While you may be trying to get better, some play like complete donkeys simply because they can and can always get more free chips.
Don't pay too much attention to your results. This is because of the first reason. It can be nearly impossible to predict what will go on when playing free ring games. You may have someone go all in with 2-7 off-suit. If you call, chances are you will beat it but there is always a chance it can beat you. Either way, 2-7 off isn't a hand that would normally played when cash is on the line.
Play safe early on in freeroll tournaments. Like free ring games, freerolls can get nutty and it usually happens as soon as the first hand. You might be taking things seriously but some are there to simply double or triple up, or get knocked out.
Not many players on the tables. Fact is, most people that try free poker rooms end up playing for real-money which means the website always needs people to fill the holes left by their clients which are now money players. With that said, it can be hard to find a full table of the type of game you want to play in either no-limit, pot-limit or limit varieties.
Not many free-roll tournaments. While players can find freerolls almost any day of the week during primetime hours, they can be hard to find during the day and really don't exist late at night. Compared to the number of money tournaments, freerolls are lacking and usually fill up fast.
Play money is worth nothing! Sad but true, anything you win playing for free doesn't mean anything. It's almost inevitable that you will get up big when playing for free. Whether that is because of other player's crappy play or good cards, its only practice unless you are playing in a freeroll that has some type of payout.
Where Can You Play Online Poker For Free?
The great news about playing for free is that it doesn't matter where you practice. Because there is no chance of breaking any online poker laws when playing for fun, most poker websites will allow USA players to sign up to play for free and it costs nothing to do.
Below are a few of those websites that have free poker games where players can practice their skills and new strategies. You see these specific sites because they are not only great for free poker but they are leaders in the industry when it comes to real-money poker players. As we said, many convert to paid players. Therefore, it makes sense to start with one of the best websites with easy poker deposit methods where you already have an active poker account, where you already know how the software works.
Bovada Poker - Several Freeroll Tournaments Daily, Enough Free Poker Players To Get Action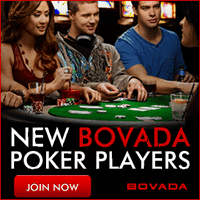 As a leader in the U.S. online poker industry, it only makes sense that Bovada would also be one of the best sites to go to when looking to play online poker for free... and it is! This poker room makes sure that users that are just trying out the software/network for the first time have enough opportunities to sample their wares which is why this is one of the most friendly poker websites that are free.
While U.S. players are accepted here, note that players in New York, Maryland and Washington State will not be permitted to register for an account. Furthermore, players are asked that they be at least 18 years old in order to play for free at Bovada.
Players in affected states have other options outside of Bovada which include BetOnline Poker and Sportsbetting.ag, both of which have fantastic software that supports free play and rewards players when they do decide to deposit. Both BetOnline and SportsBetting accept players from all 50 U.S. States.
If you meet all the requirements for registration, you are golden because Bovada is where you want to play. Their software is very slick and it works just as good as it looks. Most of our players prefer to use this software because it's simple yet effective.
Bovada offers players plenty of chances to play for free but it fails in comparison to their paid poker tables. They have 50 times as many real-money games going as they do free games and the same can be said about their tournaments. Plus, players with funds in their account can always find a sit n go tourney that is registering and usually at moderate to high buy-ins, if that is what the player wants.
Making the switch to real-money play is very easy as players usually have success when depositing with a VISA branded credit or debit card. Plus, most VISA gift cards are accepted but players should contact the cashier to which are currently accepted before rushing out to get one. Other options include the use of Moneygram and Western Union to facilitate transfers to the poker room.
Getting money out is also easy because Bovada implements both the aforementioned wire transfer services as well as checks so that players are assured of getting their money. Having a reliable poker payout method is definitely not over-rated... assuming that you plan on winning. Getting paid makes all the practice worth it!