Online Poker Laws In New Jersey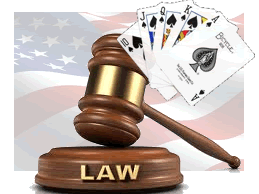 One of the most popular pages here at OnlinePokerLaws.com is this New Jersey page. New Jersey has always been considered among the more liberal gambling states in the US, along with others such as Nevada, with the first commercial casino introduced way back in 1978. Poker games, as well as other games of skill and chance, are widely available at state regulated casinos in popular gambling havens such as Atlantic City, and it is only matter of time that pending laws will see the introduction of a legalized and regulated online poker industry.
This page will examine online poker laws and regulations in New Jersey and explain how residents of New Jersey can play online poker at top notch poker site such as Bovada Poker.
How To Play Legal Online Poker In New Jersey
While pending laws have not yet seen the introduction of regulated online poker sites in New Jersey, this does not mean that New Jersey players are left out in the cold, and there are many out of state options available to them that are not only able, but also willing to accept players from the state. Playing at these sites essentially means registering one's details, making a deposit into the newly opened account and playing quality online poker.
Are There Legal Online Poker Sites That Accept New Jersey residents?
Like all online gambling sites, some have tighter restrictions than others, based on many factors. Some may welcome New Jersey poker players with open arms, and others may have a ban on players from certain states. While the majority of online poker sites accept players from New Jersey, it's worth checking the fine print at any potential site you're thinking of joining to see their policy on New Jersey poker players. If in doubt, contact customer support. The bottom line is that unless the software provider specifically prevents you from playing at the site, there is nothing stopping you joining and playing.
Helpful Pages: Best Online Poker Sites accepting USA Players
Is Online Poker Legal in New Jersey?
At present, while the broad interpretation of the law is that New Jersey lumps all forms of online gambling as an illegal pastime, this is a strongly debated issue among legislators who are able to find many loopholes within this broad definition. In fact, there are no laws on the NJ books which specifically mention online poker or gambling. Most players happily play at online poker rooms, safe in the knowledge that a poker room will never reveal their personal details and maintain the highest levels of discretion.
Helpful Article: Is poker legal?
What Do The Online Poker Laws In New Jersey Say?
All laws pertaining to poker and the legality of the game can be found in 2C:37-1 et seq.; 5:5-1 et seq. which governs the laws of poker and gambling in New Jersey. Poker is a well-accepted and legal form of gambling and entertainment in the Garden State, and has been since the New Jersey Casino Control Commission was established in 1977. Today, legal gambling and poker in New Jersey generate nearly $300 million in annual tax revenue for the state.
Regulation Of Legal Online Poker In New Jersey
First attempts to introduce online poker regulation in New Jersey in a formal manner were made in 2010, with the State Senator Ray Lesniak acting as the pioneer force. In 2011, Governor Chris Christie vetoed a bill that would have seen the introduction of a legalized and regulated online poker industry, and, after changes were made to the bill, it is hoped that he will sign a pending bill into law in the coming weeks – making legal online poker in New Jersey in 2013.
Update: In late February 2013, New Jersey Governor Chris Christie signed the bill that would allow for the regulation of online gambling in the state, online poker included. This is great news but until the industry is actually regulated, New Jersey residents are better off sticking with the offshore operators.
Best Online Poker Sites That Accept New Jersey Residents
The best poker rooms that welcome players from New Jersey are still located off-shore. Despite the potential to regulate and fully legalize the industry, nothing is actually in place. Until the release and operation of New Jersey-run online poker sites, we still recommend the sites we have listed below. These poker sites accepting NJ players are and probably always be popular with players in the Garden State.

Bovada Poker - Play Hold'Em, Omaha + Hi/Li, & 7 Card Stud + Hi/Lo Here!
A popular online poker site for New Jersey players is Bovada Poker, a rebranded Bodog Poker site which was launched in 2011. This US friendly site offers an experienced team of managers and customer support people, bringing players a well-rounded and rewarding online poker destination. The site boasts excellent software with good features such as resizable tables and multi tabling; top rewards including its 100% sign up bonus; as well as tables and poker variants to suit players at all levels, from casuals to pros.

BetOnline Poker - High Traffic, Guaranteed Tourneys, More Than Hold'Em
Since diving into the world of online poker, BetOnline's poker room has really taken off. In fact, it's become one of the largest in operation today, with big payouts + plenty of tournament and table options. Specifically concerning New Jersey residents, BetOnline does allow accounts from the area to be created. Real-money bets are accepted with the chance to profit through table games and tournaments.
BetOnline tournaments take place daily, with a 200% signup bonus to those in New Jersey that decide to go with them. There is more than $250,000 in tournament winnings up for grabs every month. A detailed list of tournaments available each day can be found on site, which updates in real-time as tournament progress.
5Dimes Poker - Reputable + Safe For All New Jersey Residents To Use
5Dimes breaks down their poker rooms into two distinct areas. There is the 'Open Waters Poker Room' and the 'Shark Tank Poker Room'. Of the two, you can probably guess which one is more competitive. That would be the latter, as the poker sharks take to the Shark Tank where big money awaits the winners. Of course, recreational play for real money is offered for New Jersey poker players as well in the Open Waters segment.
Cash games, Sit-n-go's and plenty more can be experienced at 5Dimes. As part of the Equity Poker Network, 5Dimes syncs up players from all over the world to get together and play with each other. While New Jersey is an accepted state to create new accounts, so too are all U.S. states + many plenty of other countries.
Regulated Poker Sites For New Jersey Residents - We Do Not Play Here!
With online poker in New Jersey now legal and regulated (as of November 2013), there are several websites that are in operation to offer real-money poker games. Below is some information on these sites, where to find them + how to play. Online poker is one of the biggest parts of legal Internet gambling in New Jersey, as these sites are backed by companies that many should be familiar with.
Party Poker - Party Poker is a legal and regulated site in New Jersey that gives residents + visitors of legal gambling age the chance to play many different types of poker games. Party Poker is operated by the Borgata Hotel and Casino, which partnered with BWIN.party to bring the website to life for players.
WSOP - Probably the most recognizable name of the legal poker sites that New Jersey residents can play, WSOP offers a fully-functional online poker room complete with table games and tournaments. WSOP is a trusted brand that is one of several options to go with. Simply visit the site, click 'play online poker' and you're good to go.
888 Poker - 888 Poker lets New Jersey players enjoy several different types of poker for cash. Signing up is easy with a great help section that is available to answer any questions or problems that may be encountered when trying to get started. The software download takes just a few minutes to complete, and then 888 Poker will be open to play.
Borgata Poker - Borgata Poker is another regulated poker website in New Jersey that is in conjunction with the Borgata Hotel and Casino. A 24/7 support structure is available for new players to the site with other sections including 'How To Play' + 'Real Money' when the time comes for a player to branch out into the world of playing Internet poker for cash!
Final Thought About The New Jersey Online Poker Laws
Playing online poker over the Internet in New Jersey is a popular pastime, with players safe in the knowledge that despite the current laws, nobody is likely to get into trouble for indulging in this game. With it being only a matter of time that laws pertaining specifically to the online poker industry are passed, the popularity and availability of online poker is set to explode in New Jersey.
Keep checking back with OnlinePokerLaws.com as we're all over the topic when it comes to New Jersey and other states that are passing laws to allow the regulation of the game. Things are definitely headed in the right direction, but time will only tell when the laws that actually make online poker legal in New Jersey are passed and put into effect.