Online Poker Laws In Oklahoma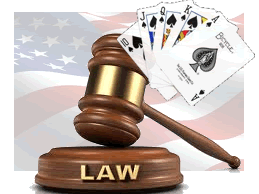 Online poker players in Oklahoma will have an easy time signing up and joining various sites. Oklahoma is one of the more liberal states in the U.S., and poker is widespread and popular throughout. Despite there being laws in place for the operation of online gambling sites in the U.S. at the federal level, it's safe for a player to go about their online poker business to their hearts desires in Oklahoma.
This page is going to delve deeper into those laws and the legaity of playing online poker in the state plus show readers the best places to play legal online poker in Oklahoma. By the time you are finished reading this guide to legal poker, you are going to be well on your way to playing the games you love, whether it be for free or for cash. Take a look at the Oklahoma online poker laws below.
How To Play Legal Online Poker In Oklahoma
Most online poker sites that accepts players based in the United States will willingly accept players situated in Oklahoma. Therefore, players shouldn't have too much of a hard time finding an online poker site that suits their needs.
Players will be able to fund their accounts using a variety of methods that are accepted at the different sites. These methods typically center around major credit cards, wire transfers, and e-wallets.
Are There Legal Online Poker Sites That Accept Oklahoma Residents?
There are always going to be poker sites that don't accept players from this place, or that. However Oklahoma tends not to be one of their disallowed places. Any player who wishes to play in an online poker site within the United States will almost certainly be permitted to play from Oklahoma, provided that they meet the minimum legal requirements of the gambling site; namely the one regarding how old you have to be to gamble.
Helpful Pages: Best Online Poker Sites For USA Players
Is Online Poker Legal in Oklahoma?
Oklahoma does have laws which dictate that no unauthorized gambling is permitted within the state. However they do have land based poker rooms which are fully licensed. In these licensed poker rooms it is fully legal to wager on poker; however they make an exception (as do most states) for online poker.
It is pointless to argue about why it is legal to gamble in their licensed premises and not online and far better instead to just ahead and play online poker. Few will try to stop you, and even if they do; the penalties are soft.
Helpful Article about legal online poker: Is online poker legal?
What Do The Online Poker Laws In Oklahoma Say?
Players in Oklahoma have very little to worry about when it comes to playing poker online at offshore poker sites. The laws in place against online poker reflect on the operation of poker sites in the U.S., and do not target the player.
As a result, players from Oklahoma can legally sign up at these sites operating outside of the United States without having to fear that they are breaking the law. Provided that players meet the minimum age requirements at the site and in Oklahoma, they are good to go.
Regulation Of Legal Online Poker In Oklahoma
Just like in all U.S. states, there are no official poker sites that are regulated by the state of Oklahoma. Several states are working on passing regulation which would make Internet poker legal and regulated by the state however Oklahoma has made no plans to join in... yet. States are seeing the money they are missing out on, all the money that is going overseas, and they want their piece of that lucrative pie. With that's said, it's conceivable that online poker may soon become regulated in every state, Oklahoma included.
Online poker sites allowing players from Oklahoma are still regulated, albeit by third party regulators and independent auditors. These offshore online poker sites are checked for fairness and security and will carry licenses and certificates to prove their authenticity. Although not approved of by the U.S., they are still one hundred percent legitimate.
Best Online Poker Sites That Accept Oklahoma Residents
Any player that resides in Oklahoma can basically have their pick from a long list of online poker sites that are prepared to accept players based in the United States. Oklahoma is not seen as a strict state when it comes to online poker, so with such a big list to choose from, the player can pick the site that best suits them. There are a variety of great online poker sites that accept Oklahoma residents which operate offshore.

Bovada - Oklahoma Residents Get Up To $1K w/ 100% Welcome Bonus Offer
Any players wishing to play at Bovada from Oklahoma will have no problem signing up. Bovada Poker is licensed by the Kahnawake Gaming Commission in Canada and is perfectly safe for any Oklahoma based player to play online poker at.
Bovada Poker offers all new players a welcome bonus to the tune of one thousand dollars when they make their first deposit at the online poker site. They also offer players an additional bonus for introducing a friend to the poker site, and host plenty of tournaments for both experienced and amateur players alike. It is also an excellent source of knowledge for poker players just starting out, as they have superb guide and poker tips for beginners.
Final Thought About The Oklahoma Online Poker Laws
Oklahoma is a safe state to play online poker in. Realistically, there are no punishments other than a token fine, and that will probably be revoked if Oklahoma decides to make online poker legal, like many states are considering. Oklahoma is an online poker safe house for the most part.
It soon could become totally safe as we mentioned that more and more states are becoming aware of revenue they are losing out on. Times are tough all over and states like Oklahoma may be forced into playing their hand.