Online Poker Laws In New York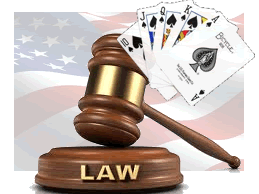 Is online poker legal in New York? Of course it is because there is not any online poker laws in New York that make it illegal for the player to play some Texas Hold Em. If you live in New York, you are probably well aware of the events that occurred on "Black Friday". The states justice department was the ones who started the whole mess of going after certain online poker rooms.
While many were lead to believe that the reasons for shutting these sites down was because playing online poker was illegal. The fact is; the sites were shut down for breaking other laws that were related to money laundering and bribery. The justice department even came out and said that online poker was considered a game of skill and that makes online poker legal for residents of New York.
The bottom line is; playing online poker in New York is not illegal as you will find out in this article. We discuss current and past state laws regarding online poker, how and where to play online poker in New York as well as firmly explaining why it's legal to play online poker for New York residents.
Can I play legal online poker in New York?
If you're looking for a game of poker online from New York, you're in luck. All you need to do is find a site that allows players from your state and sign up. It's pretty simple when you think about it. There's not much difference between how things used to be and the way they are now. You may have fewer options, but the way you play is exactly the same.
Do all of the legal online poker sites accept New York residents?
There are fewer sites that are willing to accept residents of New York because of fear they may be subject to the same events of "Black Friday". However, there is no legal ruling that denies a site from accepting players from New York. The decision to not allow New York residents is one of choice and should not be considered otherwise.
Helpful Article about legal online poker: Is online poker legal?
Online Poker Laws In New York
New York does allow casinos and poker rooms in their state, but many of them are on Indian Reservations. They are very strict about going after illegal gambling operations as they run rampant in this state. But this only applies to the operation of live betting such as in your home or other unlicensed manner.
Regulation Of Legal Online Poker In New York
The fickle part of New York's laws regarding poker is; even though they were the ones who went after the online poker rooms; they have since changed their position regarding online poker. After a request from Indiana and New York officials for the Department of Justice to make a clear ruling on what is considered a game of skill, The D.O.J. released an official statement calling poker a game of skill which removes it from the jurisdiction of most laws to date.
This ruling has cleared the way for states to begin passing their own legislation to allow online poker. It has only solidified what most in the poker community already believed, that online poker does not apply to the Wire Act which makes it illegal to place a bet using methods such as the internet. The Wire Act mainly applies to casino games like; Blackjack, Roulette and other games of chance.
Legal online poker sites that accept New York residents
Residents of New York have to face tougher choices when playing online poker these days. The bad news is that some sites still open to the American public are not accepting players from New York. The good is news is; you still have a selection of rooms that are safe; offer plenty of value and best of all, legal.

BetOnline Poker Room - Best Poker Site For New York Poker Players
BetOnline is the premier place to play online poker for New York residents. On their site there is a big advertisement that pictures the Empire State building with a caption that reads; "Play with these guys." You can't get a clearer answer if a site allows New York residents than that. BetOnline has some of the best deposit methods available to American players. This makes funding your account and playing online poker for real money as easy as it was a few years ago.
Closing Thoughts About The Online Poker Laws In New York
Overall, you should have no worries about playing legal online poker in New York. While some sites may not accept residents of your state, you still have options and you are still playing online poker legally. These options are always legal and one should never be afraid of getting into legal trouble for playing online poker for real money in New York.
Resources Related To New York Online Poker Laws
New York State Lottery Website
New York State Gaming Commission