Online Poker Laws In North Carolina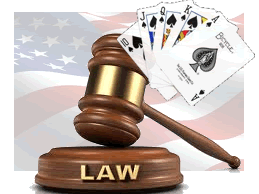 With the first lottery game only introduced in North Carolina in 2006, it is easy to sum up the state's approach to the issue of gambling in general. Gamblers are sometimes frustrated by the lack of options available to them in the Tar Heel State, although recent agreements with tribal gambling interests have led to greater opportunities for poker fans. When it comes to online poker, most players adopt the position that so many of their fellow players in other states do – if it is not specifically mentioned in the law books (which it is not in North Carolina), there should be no problem wagering online.
On this page, players will find the ultimate guide on how to play legal online poker in North Carolina. They'll be advised on the legal ins and outs of gambling in general, and online poker in particular, and showed how to find the best online poker rooms in the state and start playing their favorite game. Read more about all of the relevant online poker laws below.
How To Play Legal Online Poker In North Carolina
Before signing up to a poker room simply because its accepts players from North Carolina, players may want to do their homework first and ensure that the site is well recognized in the industry, has a solid poker software group providing it with the necessary backing, and takes all the necessary steps to ensure that their security systems and privacy policies are airtight. Once this has been established, players simply register with the online poker room, make a real money deposit and start playing. A good place to start would be to check out the sites mentioned on this page.
Are There Legal Online Poker Sites That Accept North Carolina residents?
The rule of thumb is this: If an online poker room's software provider accepts you as a player, there is nothing physically stopping you from signing up and starting to play at a North Carolina online poker room. Just make sure that you are above the minimum legal age to gamble in the state, which is the one requirement that software groups will naturally insist upon.
Helpful Pages: Best Online Poker Sites For USA Players
Is Online Poker Legal in North Carolina?
The issue of online poker is not dealt with in North Carolina gambling laws. Further, the state's Attorney General has not given his opinion on the matter in his official capacity. While there are no clear answer to the question of the legality of online poker in North Carolina, the fact that so many players from this state seek out top online poker rooms and manage to play at them unhindered should provide some type of direction for players sitting on the fence.
Helpful Article about legal online poker: Is online poker legal?
What Do The Online Poker Laws In North Carolina Say?
Until recently, poker was a difficult form of pastime to enjoy in a legal and regulated capacity in North Carolina. However, agreements with tribes in recent years have seen poker now offered at tribal casinos. Charitable poker is also an option, although legislators are still bickering about the legalities of this type of variant. Poker laws in North Carolina are governed by state code: 14-289, et seq.
Regulation Of Legal Online Poker In North Carolina
Now and then, legislators decide that the time has come to regulate the North Carolina's online gambling industry, mainly due to what they perceive as the 'problem' of sweepstake cafes, but the idea is quickly dropped due to internal arguments. On the other hand, online poker rooms recognize the player's need to feel safe and secure when playing on the internet and have therefore taken steps to self-regulate their platforms by setting high standards and ensuring that they are constantly met.
Best Online Poker Sites That Accept North Carolina Residents
It is important that legal online poker sites that accept North Carolina residents also meet other requirements, such as running a tight ship when it comes to customer support, security and monetary matters, as well as good bonuses, fast payouts and a highly entertaining gaming platform.

Bovada - From The Mountains To The Coast, All NC Players Are Welcome To Play
Bovada is a multi-lingual online poker platform that specializes in providing a safe, rewarding and entertaining environment for its players. Bovada Poker, which is operated by the same team which runs the Bodog brand, is especially welcoming to players from the US (including North Carolina), and makes them feel at home through a super 100% match bonus.
The site prides itself in unique features such as anonymous screen names and the chance to enjoy multi-tabling, all the while supporting a number of convenient deposit methods and ensuring fast payouts.
Final Thought About The North Carolina Online Poker Laws
North Carolina's interest in gambling legislation is more tied up with the question of sweepstakes and less with online gambling. With no real threat to individual players taking their poker entertainment online, a local online poker community has flourished and there are a number of top notch sites available to players.