Online Poker Laws In Alaska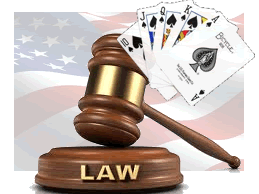 The state of Alaska manages to convey its icy image to the laws governing its gambling industry as well, and a number of broad restrictions over what legislators construe as gambling activities in the Last Frontier. There are certain gambling laws which are considered downright whacky in Alaska (it is legal to wager on hamster races for example…), but for the most, they are restrictive and tight. Having said that, the law is clearly in place to frighten gambling operators, with very little focus on individual players per se. With social games also allowed, poker players have some outlet for their favorite pastime. No laws that specifically address online poker are present in Alaska's constitution, and there are a number of good online poker rooms that serve residents of the state.
This page provides the most updated information available concerning legal online poker in Alaska. It examines the laws and regulations pertaining to the game specifically from an Alaskan point of view, highlight where to play online poker in Alaska, which sites welcome Alaska residents and how to find the right poker room to play at.
How To Play Legal Online Poker In Alaska
To get a good understanding about how to play online poker in Alaska, your first step should be to visit one of the sites listed on this page. They will provide you with all the right tutorials to help get you on the way to enjoy online poker in Alaska, and the added bonus is that you'll have peace of mind that the sites listed here have been tested for security, fairness, transparency and software durability.
Are There Legal Online Poker Sites That Accept Alaska Residents?
The long and the short answer to this question is: Yes. There are two conditions, however, that will determine that Alaska residents are welcome at online poker sites. The first is that the online poker software provider says that it is OK (and for the most, they all do), and the second is that you are of legal gambling age. If you're from Alaska, that is 21 on the law books.
Helpful Pages: Online Poker Sites Taking USA Players
Is Online Poker Legal in Alaska?
As with many laws dealing with issues which fall into 'grey areas', the question of legal online poker in Alaska is certainly open to interpretation. The fact that so many Alaska residents seek out online poker options all boils down to the lack of mention of online gambling or online poker in Alaskan law altogether. The state AG tried to clarify the question of online gambling, but there is still no clear cut answer as of yet. Online poker players are also comforted by two facts: Firstly, the law seems to place zero focus on individual players' accountability and secondly, online poker rooms will never, ever pass their personal information on to the authorities.
Helpful Article: Is online poker legal in the USA?
What Do The Online Poker Laws In Alaska Say?
Alaska makes allowances for social games, including poker, as long as the house doesn't take a cut. State code 11.6.200; 05.15.680 makes it illegal to operate a poker game. No casinos are allowed in Alaska, nor are horse racing or dog racing events. Online poker is not specifically mentioned in any of the laws, and nor is online gambling in general. In some circumstances, charitable gambling is allowed in Alaska.
Regulation Of Legal Online Poker In Alaska
With a population less than a tenth of the size of New York City, and unsteady internet conditions, it may be understandable that Alaska isn't rushing to regulate any online poker industry to speak about. Those sites that serve Alaska residents have taken the initiative to regulate themselves in terms of security, privacy and fair gaming standards offered to their customers.
Best Online Poker Sites That Accept Alaska Residents
An online poker site that accepts Alaska residents will be one that does not compromise an inch on important matters such as good customer support, a good range of banking methods, airtight security and industry reputation.

Bovada - No Matter How Cold It Is In Alaska, The Tables Are Always Hot Here!
If an online poker room's industry reputation is important to you, if you want to ensure that you're on the same page when it comes to privacy and security, and if you want a guarantee that 'US poker player' isn't a dirty phrase on the platform, then Bovada Poker is the poker room for you.
This licensed online poker room offers its players a safe and rewarding gaming destination, not to mention highly entertaining, thanks to superb, solid software, a nonstop tournament schedule, unique features and multiple skill levels.
Final Thought About The Alaska Online Poker Laws
Alaska clearly has a long way to go until it is able to offer its local residents the type of poker platform that other states provide. Its remoteness is one factor which may explain the lack of casinos and other gambling establishments, but thankfully, the internet has managed to solve some of these problems, and poker fans from the state take advantage of technology to play top notch real money poker games and tournaments at well-known online poker sites. Read more about the poker laws in the United States on our homepage.