Oregon Online Poker Laws + Regulation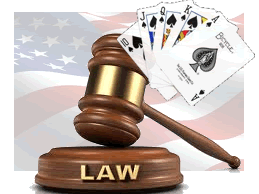 Very few US states actually mention online gambling in their law books and, unfortunately, Oregon is one of them. This site has taken a leaf from its neighbor, Washington's books, and has adopted a very strict approach to illegal online poker and gambling in general. Technically, players could face misdemeanor charges however there have been very few cases – if any – of authorities actually making formal charges against online poker players in Oregon. On the ground, there are plenty of online poker sites willing to accept players from the Beaver State, and plenty of online poker fans take advantage of these gaming sites.
This page investigates legal online poker in Oregon, taking a look at how players can avoid the legal and regulatory hurdles put in the path of secure and rewarding online poker entertainment. The page examines which sites welcome Oregon poker players and provides a brought overview of online poker laws in this state.
How To Play Legal Online Poker In Oregon
Look no further to understanding how to play online poker in Oregon than the sites listed on this page. Besides useful technical information to explain how to open an account, deposit funds using easy payment methods and redeeming bonuses, you'll also learn to identify top notch sites which take matters of security and safety very seriously.
Are There Legal Online Poker Sites That Accept Oregon Residents?
The entity which has the final word of whether or not you can play at a specific online poker room is the software provider which powers that site. If the provider has no problem with Oregon residents playing at its site, who are you to argue?! One thing you need to ensure is that you are of legal age to gamble in your state.
Helpful Pages: Best Online Poker Sites For USA Players
Is Online Poker Legal in Oregon?
Oregon, along with a small handful of other states, is one of the few which actually mentions online gambling in its list of no-nos. Having said that, many interpret the law to mean that authorities are more concerned with actually preventing money being transferred from the player to the operator than with criminalizing poker for individual players.
With that in mind, Oregon online poker players regularly seek out sites which accept them and offer them a safe gambling environment. Once players register and become a member of a particular site, they should bear in mind that these sites will do everything to protect their identity and will never pass on their details to authorities or other third parties.
Helpful Article about legal online poker: Is online poker legal?
What Do The Online Poker Laws In Oregon Say?
Tough is the word that comes to mind when examining Oregon's poker laws. The state has a strict policy when it comes to unregulated gambling, and has no commercial casinos to speak of. However, Oregon poker fans can seek out the game at over 10 different tribal casinos where real money poker is legal. Poker can also be played in a social setting as long as the house doesn't derive income from operating the game.
Regulation Of Legal Online Poker In Oregon
The issue of regulating online poker in Oregon is one which is virtually non-existent, and may not ever become a reality since the tribal casinos have a lot to lose should this ever take place. With these low chances in mind, online poker sites serving Oregon players have taken to set their own standards and ensure that they meet the requirements set by the strictest gambling jurisdictions in the world.
Best Online Poker Sites That Allow Oregon Residents
Legal online poker sites that accept Oregon residents will undoubtedly be those that take their players' safety, privacy and security very seriously, that guarantee transparency, fair play and responsible gambling, and that ensure fast payouts, easy deposit methods and good incentives.

Bovada - Open 24/7, 365; One Account Gets Sports Betting Option + Casino
If you're looking for an online poker room that was designed for the US market and is run by the same guys who brought you the Bodog brand, then Bovada Poker is worth a visit.
You'll be able to enjoy free play poker, freerolls and generous welcome bonuses to give you a taste of the multiple game variants and tournament options available. Real money play is available at various wagering and skill levels, and you can qualify for terrestrial poker tournaments through frequent qualifiers run at Bovada Poker.
Professional customer support, easy payment methods, tough security and top rewards ensure a favorite gaming destination for players.
Final Thought About The Oregon Online Poker Laws
Despite Oregon's rather unfriendly attitude to gambling in general and online gambling more specifically, online poker players from this site don't let this stop them from enjoying a good range of sites available to them. In fact, it seems that because of the scant poker options available 'on the ground', more and more Oregon poker players are taking their games to virtual poker rooms.