Online Poker Laws + Regulation In West Virginia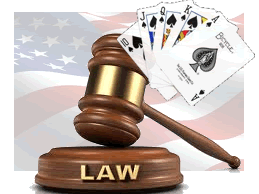 When many hear the name; West Virginia, thoughts of mountains and may be the only ones that come to mind. What most don't realize is that West Virginia is becoming one of the biggest gambling states in the country. As far as East Coast states go, WV has one of the larger gambling communities that rival Atlantic City with such venues as The Greenbrier.
This leads to a large base of poker players who may be left without a place to play when not a casino. Many of these players used to play online, but are now skeptical of the laws that surround online poker. Some feel its illegal and are scared to even attempt to access an online poker room.
This article will help alleviate those concerns and have you playing online poker for real money in no time at all. We will cover all the online poker laws in West Virginia, including online laws. We also cover some sites that still allow players from your state to partake on the game you once played.
How To Play Legal Online Poker In West Virginia
Playing online poker is much the same as it once was. In fact, the only difference may be the place you play at. To play online poker in West Virginia, all you need is a computer, an internet connection and a name.
Once you create an account at one of the many poker rooms available to your state, you'll be playing online poker in no time. Do note that if you are ready to play for real-money, you will need to go one step further and actually put funds into your account. Players who want to play for money must have money to play with.
Are There Legal Online Poker Sites That Accept West Virginia Residents?
All poker sites that accept American players will also accept residents of West Virginia. Some sites may choose to exempt players from certain states, but WV is certainly not one of them.
As you read more below, we're going to disclose which sites that West Virginia residents prefer when playing online. They are the same sites that keep player info safe which is a big benefit to anyone, West Virginia residents or not.
Find them all here: Online Poker Sites That Accept USA Players
Is Online Poker Legal in West Virginia?
No state has a law that makes online poker legal in a sense. There are a few (New Jersey, Delaware, Nevada) that working toward putting actual regulation in the books, but very few have laws that relate to specifically to online poker.
On the flip side, there are also no laws that make online poker illegal. There are laws in place that make online casino games that rely on chance illegal, but poker does not apply as a game of chance, therefore making it perfectly legal and safe to play online.
Helpful Article about legal online poker: Is USA online poker legal ?
What Do The Online Poker Laws In West Virginia Say?
Since casinos are allowed in West Virginia, poker tables are also permitted. This makes playing poker legal and encouraged at all racinos (racetrack – casinos) in the state. There are no guidelines that limit the amount of money to be played for like some states have in place. This makes WV one of the better options to play live poker.
As for the online realm of online poker, this area is not included in the law just as it is in many of the U.S. states. Due in large part to the Internet not existing when pro or anti-gambling laws were written, many states leave the legal aspect of online poker up to the Federal government, something we already know not to be a crime or illegal; West Virginia is one of those states.
Regulation Of Legal Online Poker In West Virginia
Since West Virginia already has a community of casinos throughout the state, the possibility of online poker being added has been brought up on occasion. As of yet, there has been no official ruling if online poker is legal or illegal.
There are laws that prohibit other forms of gambling, but again, poker does not fall into this category. The fact is; online poker remains a grey area for most of the country. Until someone says it's illegal, consider online poker to be legal and safe.
Best Online Poker Sites That Accept West Virginia Residents
You no longer have the big sites that are taking American or West Virginia residents at this time, but you still have a nice selection of sites to choose from. These may be smaller and lesser known names, but they are quickly becoming competitors of the big boys with what they have to offer.

Bovada - WV Residents Play Online Poker Plus Casino Games & Bet On WVU
Of the remaining sites accepting West Virginia residents, Bovada is starting to become one of the hot spots for American players. They have a banking system in place that makes depositing and cashing out easy for American players.
They also have a nice bonus offer for new a player that's worth up to $900. Add in a nice platform that has plenty of features to make playing easy and a wealth of ongoing promotions, Bovada may just be your next home for online poker.
Final Thought About The West Virginia Online Poker Laws
Overall, playing poker online in West Virginia is one thing you shouldn't worry about. There is literally zero chance of getting in trouble for doing so. No one has ever been charged with the crime of playing online poker and I would put my bankroll on no one ever will.
With a decent selection of sites that still accept players from West Virginia that have a lot to offer, you should have the same experience and fun that you once had playing online poker.