Online Poker Laws + Regulation In Louisiana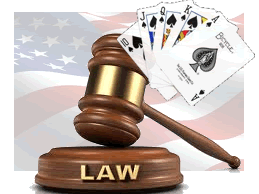 If you're looking for some of the most ambiguous gambling laws in the country, look no further than Louisiana. This state is famous for causing more confusion than clarity when it comes to the definition of 'legal gambling', which makes it extremely difficult to understand the state's general stance on internet gambling. In general, Louisiana residents have a good range of gambling and poker options available, which means that the multicultural Pelican State is quite open to the idea of a regulated and legal gambling landscape. On this background, online poker players in Louisiana find a range of good and respectable gaming sites to enjoy the game.
This page clarifies the issue of legal online poker in Louisiana, shows players how and where to play the game in the state, examines laws and regulations governing online poker in Louisiana and provides a greater understanding of gambling in general.
How To Play Legal Online Poker In Louisiana
Countless sources will be able to tell you how to play online poker, but when you're looking for one specific to Louisiana players, there are several additional things to take into account. Just because an online poker room says that it accepts players from Louisiana doesn't meant that you should automatically open an account and start playing. Ensure that the site is safe and legal. Check to see what others are saying about it. Do some background research into its software provider, bonuses, promotions, payouts, games provided, tournaments and more. If in doubt, check out the online poker rooms recommended on this page.
Are There Legal Online Poker Sites That Accept Louisiana Residents?
There are two major criteria you will need to meet in order to be welcome at online poker sites. First off, you'll have to be of legal gambling age and, secondly, the online poker site's software provider will have to agree that you can open an account there. If you are able to meet these criteria, Louisiana residents are welcome at online poker sites.
Helpful Pages: List Of USA Online Poker Sites
Is Online Poker Legal in Louisiana?
Unlike many states, online gambling (or "gambling by computer" as the dry letter of the law reads), is actually mentioned in Section 14:90 (B). However, as with the laws governing general gambling in the state, there is so much ambiguity surrounding who the law actually refers to when outlawing certain activities, that online poker players have taken this as a cue to enjoy internet poker at sites which are willing to accept them until such time as somebody clarifies matters for them. Plenty of good online poker sites not only accept these players but also give their word never to divulge private information to a third party.
Helpful Article: Is playing online poker legal for US players?
What Do The Online Poker Laws In Louisiana Say?
The laws concerning gambling – both terrestrial and online – are mentioned in state code 14:90 et seq.; 27:201 et seq. Louisiana makes allowances for certain types of gambling, including licensed and tribal casinos, where poker is available and legal. Just like other USA online poker laws, they do not cover whether or not online poker is legal, which means that Louisiana residents can play wherever they want to as long as they accept LA residents.
Regulation Of Legal Online Poker In Louisiana
With some of the biggest pro-internet gambling casino brands having a strong presence in the Louisiana gambling market, it may very well be that we'll be seeing the state with a regulated online poker industry sooner rather than later. Until such time, however, players can rest assured that online poker rooms maintain strict standards of security and transparency through self-regulation.
Best Online Poker Sites That Accept Louisiana Residents
Louisiana residents have an excellent number of online poker sites that offer them top notch entertainment. However, what is worth remembering is that legal online poker sites also need to be well recognized in the industry, offer easy payment methods and keep players rewarded well with regular rewards and bonuses.

Bovada - One Account Lets LA Residents Play Poker & Bet LSU / Saints Football
New players to the Louisiana-friendly, US facing online poker room are greeted with a 100% match deposit bonus, which indicates a range of regular bonuses and promotions offered by this site.
Texas Hold 'em, Omaha and Stud Poker are just some of the variants offered through cash games, freerolls, sit 'n gos and more. There is no rest for the tournament schedule which runs 24/7, while top support is offered through various channels, including live chat. Accounts can be funded through a range of convenient deposit methods, while payouts are fast.
Final Thought About The Louisiana Online Poker Laws
Louisiana is considered one of the more 'friendlier' states when it comes to gambling options for its residents, and out of this environment has sprouted a small but loyal population of poker players who regularly seek out – and find – solutions to their poker needs, both online and off.