Online Poker Laws In Maine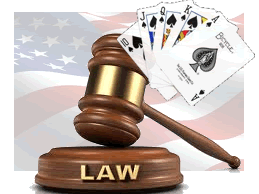 While gambling is not on the top of Maine's list of priorities, the subject does make headlines now and then. The Pine Tree State's definition of gambling is relatively broad and laws are quite strict, however the good news for poker players is that even if they willfully play any of the games which are defined as unlawful under state legislation, there are no legal consequences to speak of. The long and the short of it is that poker players don't face any penalties, even if they participate in a game – online or off. Maine's gambling laws seem to focus more on the operators of unlawful games. Despite its small population of just 1.33 million, Maine has a loyal customer base of online poker players who have find a great range of sites to offer them top quality internet poker.
This page leads you through some of the issues that make up legal online poker in Maine. It examines how to play online poker in Maine, whether Maine residents are welcome at online poker sites, whether online poker is legal in Maine, what laws govern poker in Maine, and the issue of online poker regulation in the state.
How To Play Legal Online Poker In Maine
While you are more than welcome to check out one by one the many different online poker sites that offer the game to Maine residents, it is probably a much better idea to begin your search by checking out the online poker sites listed on this page. All online poker sites will teach you how to play online poker, but only an investigation into the security levels, rewards and payouts of these sites will ensure that you are playing at the right site.
The online poker rooms listed on this page have been given the all-clear that they meet all the necessary standards that players are looking for in their poker sessions.
Are There Legal Online Poker Sites That Accept Maine Residents?
The software provider at the site you wish to play at is the one entity which has the final say in whether you can sign up a real money account or not. The good news is that the vast majority of providers have absolutely no problem with accepting Maine residents and you'll be more than welcome. Just one thing: Make sure that you reach the state's legal gambling age (18 – 21, depending on what games you're playing.)
Helpful Pages: List Of USA Online Poker Sites
Is Online Poker Legal in Maine?
No particular aspect of laws governing gambling in Maine make actual reference to online gambling in general, and online poker in particular. Over the past few years, suggestions have been made by certain legislators to update state laws to incorporate online gambling and poker, however no progress has been made. As such, online poker players in the state have taken this to mean that they are not breaking any laws by seeking out poker action online. This, coupled with the fact that individual players are not criminalized for participating in games of chance, makes for a very clear case in favor of legal online poker in Maine.
Helpful Article: Is online poker legal for US players to play online?
What Do The Online Poker Laws In Maine Say?
If you check out the state code, you'll see that the laws governing gambling in Maine are 17-A §951 et seq.; 8§301; 8§285 et seq.; 8§261A, et seq. The law refers to social games of chance, which covers poker, as well as a wide range of other gambling activities. In a nutshell, gamblers in Maine have access to a number of commercial casinos, horse racing and a state lottery, as well as high stakes bingo.
Regulation Of Legal Online Poker In Maine
Maine has made some efforts in the past few years to touch on the subject of online gambling, including efforts to introduce online lottery sales, however in terms of regulating its industry, Maine still has a long way to go. Should neighboring states start moving in the direction of online poker regulation, Maine may join in the efforts so as not to miss out on the revenue that could be generated from a regulated online poker industry, but for now the matter is pretty dormant. Online poker sites, in the meantime, have introduced levels of security, fairness and transparency that should make any regulated environment proud.
Best Online Poker Sites That Accept Maine Residents
Those online poker sites that accept Maine residents are ones which take their industry reputations very seriously and which ensure that their players lack nothing when it comes to fair play, responsible gambling, easy banking methods and top safety.

Bovada - Open To All Residents Of Maine; Hold'em, Omaha, 7 Card Stud + More
When seeking out an online poker platform that offers everything that you expect in a site, Bovada Poker fits the bill. This site starts off by welcoming players with a 100% bonus of up to $1,000. It then follows through on its promise of top rewards with guaranteed tournaments, freerolls, exciting promotions with large prize pools and refer-a-friend specials.
Bovada Poker is US friendly and offers you a wide range of convenient and useful banking methods with which to fund your account which include VISA, Western Union and Moneygram.
Final Thought About The Maine Online Poker Laws
As far as states go, Maine is kind to its gamblers, and makes it relatively easy for players to enjoy the online poker options available to them. While Maine still has a long way to go to see a regulated online poker industry, it is clear that this form of entertainment has at least been acknowledged by legislators and we may see some surprises from this small but independent minded state. Find the online poker laws by state if you want to learn about other states.