Online Poker Laws In North Dakota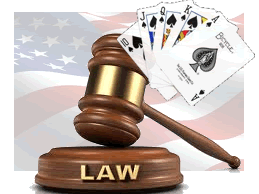 North Dakota's definition of gambling is pretty broad, and incorporates poker, sports betting and such. While the state takes a relatively tough stance on illegal gambling, it definitely distinguishes between operators of these gambling activities, and those who partake for the pleasure. Because there was not one arrest made or charges pressed against gamblers in the state in recent years, and taking into account that Roughrider State has a good sized poker player population, it comes as no surprise that online poker sites that accept North Dakota residents are easy find and are growing in popularity.
Read on for more information about how to play online poker in North Dakota, which online poker sites welcome North Dakota residents, whether online poker is legal in North Dakota, the gambling and poker laws governing North Dakota's industry and legal online poker gambling in the state.
How To Play Legal Online Poker In North Dakota
You don't need to be a seasoned poker pro to understand the logistics of playing online poker in North Dakota. Just as you would play the game at other poker rooms, you will need to register an account, pick your table and off your go. More importantly, however, is to find an online poker site that suits you. It's not enough that you're geographically compatible – you also need to make sure that the online poker room has a good software provider backing it, has an excellent security and privacy policy in place, and promises fair gaming at all times. Check out the sites listed on this page for the best online pokers for South Dakota players.
Are There Legal Online Poker Sites That Accept North Dakota Residents?
If you're not sure about whether or not you're welcome at an online poker site, drop a quick line to the customer support team and ask. As a rule of thumb, unless the poker software provider has a weird policy that North Dakota residents can't play there for whatever reason, you're more than welcome to play at the site. Just make sure, of course, that you're the legal wagering age of 21 years or over.
Helpful Pages: Best Online Poker Sites For USA Players
Is Online Poker Legal in North Dakota?
As with so many states, the question of legal online poker in North Dakota isn't even mentioned in the law books, and this leaves the question open to interpretation until such time as legislators feel the need to clarify the issue this way or that. Dakota poker fans are known to seek out – and obviously find – an excellent range of internet based poker rooms, and play there, safe in the knowledge that their information will never be passed on to a third party, including authorities.
Helpful Article about legal online poker: Is online poker legal?
What Do The Online Poker Laws In North Dakota Say?
Terrestrial poker playing in North Dakota is rather limited, and only available at tribal casinos where real money poker is available. The state runs a lottery and allows tribal gambling, as well as online and offline pari mutuel wagering on horse racing. North Dakota residents may also find poker options by playing charitable games which are allowed by law. No laws exist that refer to online poker.
Regulation Of Legal Online Poker In North Dakota
Efforts have been made in the past to regulate online poker in North Dakota, but as quickly as the idea was introduced, so too was it shot down by legislators. It is presumed that if North Dakota sees its neighbors moving in the direction of regulation, the issue may be re-discussed, but for now online poker players turn to self-regulated poker sites which meet standards of security, transparency and fair play that would make any tough gambling jurisdiction proud.
Best Online Poker Sites That Accept North Dakota Residents
There are certain standards that legal online poker sites which accept North Dakota residents will always meet, including strong emphasis on providing a safe and secure gambling environment, 24/7 customer support, good, attainable bonuses and a solid software package.

Bovada - Tournaments Running 365 Days Per Year; 24/7 Sit & Go Tourneys Too
Bovada Poker has built a sterling industry reputation itself since it was introduced in 2011. Operated by the same team which runs the Bodog brand, Bovada Poker is licensed by the Kahnawake Gaming Commission and offers a welcome bonus that rewards up to $1,000 to new players.
Look out for unique features which make this site stand out from others, including anonymous tables, simultaneous tournament play, in-client blackjack and more. Bovada Poker is the perfect site for newcomers and seasoned poker pros alike and has brisk traffic for a highly entertaining and rewarding online poker experience.
Final Thought About The North Dakota Online Poker Laws
While North Dakota won't be among those states that initiates a regulated online gambling and poker landscape, there is a reasonable chance that it may jump on the bandwagon once it sees the many benefits to its economy. However, North Dakota residents are certainly not hanging around to see which direction legislators may or may not take, and for now are quite content playing at the many different online poker rooms that are happy to accept them as members.