Online Poker Laws In Alabama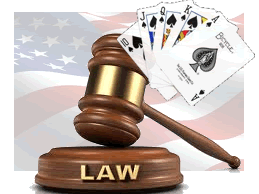 The Yellowhammer State is as well known for its 'Heart of Dixie' status as it is for its almost allergic reaction to all things gambling-related. With its radically strict laws governing gambling of all kinds, it seems hard to believe that anything poker related would thrive in such an unfertile environment. But, surprisingly online poker fans exist in the state and make an effort to find welcoming online poker sites where they can enjoy the game.
This page explains the possibilities open to online poker players in Alabama as well as the online poker laws in the state. It examines if Alabama residents are welcome at online poker sites, if online poker is legal in Alabama, the laws governing gambling and poker in the state and if Alabama will ever go the regulation route for its gambling and poker industries.
How To Play Legal Online Poker In Alabama
Technically, online poker playing in Alabama isn't any different to playing the game in other states. Once you find an online poker room where you can sign up as a real money player, you can register as a member, make a deposit (preferably with an e-wallet for maximum discretion) and start to play. One thing that needs to be stressed however, is that the site you choose to play at should be big on security, privacy and fair play. To make sure that you're playing at worthy poker rooms, check out the ones that are listed on this page for a selection of tried and tested platforms.
Are There Legal Online Poker Sites That Accept Alabama residents?
The final authority of whether or not you are welcome to play at a particular online poker room is given by the software group which provides games and services to the site. If the software group has no problem with Alabama residents opening an account and playing for real money at its site, you'll have no problem doing so. You need to be 18 years of age in order to gambling in Alabama so make sure you meet that requirement.
Helpful Pages: Online Poker Sites Taking USA Players
Is Online Poker Legal in Alabama?
Alabama makes it pretty clear in its laws governing gambling that it considers poker a game of skill and therefore off the list of legal pastimes. Having said that, there are no laws that specifically address online poker per se on the law books, which has left the question of whether online poker is legal in Alabama open to interpretation.
Alabama gambling laws were written long before the advent of online gambling, and this rather ambiguous legal stand has led many Alabama residents to seek out poker sites online, even knowing their state's stance on gambling activities in general. One thing which provides players with peace of mind is the fact that online poker rooms prioritize issues of security and privacy and would never share their personal information with any third party, whether they are authorities or others.
Article: Is online poker legal in the USA?
What Are The Online Poker Laws in Alabama?
Let's just say that nobody would immigrate to the state of Alabama for its abundance of gambling and poker activities. State code 13-A-12-20 et seq.; 11-65-1 is essentially one large frown on gambling, including poker. You could wager on state horse racing, or your try your luck at a handful of tribal gambling establishments, but that's pretty much it. Alabama laws define Texas Hold 'em and other variants as a game of skill, and thus non licet.
Regulation Of Legal Online Poker In Alabama
With its disdain of all things gambling related, it seems far-fetched to imagine the state of Alabama regulating its online poker industry any time soon. It is more realistic to seek out self-regulated online poker sites who understand that while they don't have state regulations to follow, they are not going to be dropping any of their standards when it comes to fair gaming, transparency, fast payouts, privacy and security.
Best Online Poker Sites That Accept Alabama Residents
A legal online poker site that accepts Alabama residents will be one that doesn't think twice about providing the highest standards of customer service, security and safety, as well as easy payment methods and fast payouts.

Bovada Poker Room - Welcomes All Players From Alabama; Very Safe & Discreet
Ever since its launch, Bovada Poker has been considered one of the top gaming destinations for US gamblers. The site is licensed north of the border in Canada by the Kanhnawake Gaming Commission, and offers players a $1,000 welcome bonus when they join with their first deposit.
Other special offers including refer a friend bonuses and the chance to earn loyalty points. The poker site offers tournaments with prizes upwards of $100,000, and has plenty of advice for newbie poker players, as well as beginner's tables.
Final Thought About The Alabama Online Poker Laws
Whether or not they choose to play online poker in Alabama is obviously entirely up to individual gamblers. As always, an informed decision is required, based on the facts on the ground, balanced by a healthy dose of common sense. While nobody is denying that there are strict gambling laws in Alabama, it is hard to ignore the fact that online poker is a thriving multibillion dollar industry and Alabama poker fans want a piece of action. Thankfully, for those who want to give it a shot, there are plenty of opportunities available to them.
Alabama Poker Laws + Resources
Find The Alabama Poker Laws Direct At The Alabama State Website: http://www.legislature.state.al.us/codeofalabama/1975/coatoc.htm
Alabama Department Of Gambling