Online Poker Laws In Iowa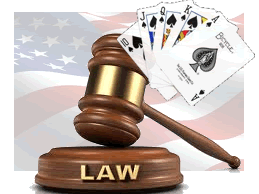 While, on the one hand Iowa offers its residents a good range of gambling options, and has a history of being open to the expansion of its industry (it was the first state to introduce riverboat gambling in the United States), this policy is balanced out by tough laws that govern the industry. Poker is alive and well in the Hawkeye State, and is enjoyed in the many regulated casinos across the state, as well as over the internet. Iowa's gambling laws may be strict, but there is no specific mention of online poker in the legislation and this has opened a door for Iowans to seek out legal online poker in the state.
This page serves as a guide to find out the latest information about legal online poker in Iowa. Find out how to play online poker in Iowa, which sites accept residents from the state, which laws govern poker and gambling laws and the status of regulation in Iowa.
How To Play Legal Online Poker In Iowa
It's great that online poker rooms say that, as an Iowan resident, you're welcome at the site. But is that enough? Before you learn how to play online poker in Iowa, you will need to make sure that the site you picked has the bare bones to provide you with a secure and rewarding poker experience. To get you set up, check out the online poker sites listed on this page, which have proven themselves in all aspects of security, rewards and entertainment.
Are There Legal Online Poker Sites That Accept Iowa Residents?
The long and the short of that question is, yes, Iowa residents are welcome at online poker sites. You essentially need to pass two "tests" in order to set up an account at an online poker site. Firstly, the online poker software provider will need to give the green light that it accepts Iowans for real money play and, secondly, you are of legal gambling age. For Iowans, that's 21 years old.
Is Online Poker Legal in Iowa?
The issue of online gambling in general and online poker in particular, is not addressed in Iowa's poker law, which has led many players from this state to make an educated decision about their own gaming sessions over the internet. While the law dictates that players and operators alike can be penalized, the actual enforcement of this law is an entirely different matter altogether and certainly plays heavily in favor of players opting to play online when they weigh the pros and cons.
Helpful Article: Is playing online poker legal for US players?
What Do The Online Poker Laws In Iowa Say?
It is legal to play poker in Iowa at regulated commercial casinos, tribal casinos and other licensed locations under state code 99.1 et seq and 725.5 et seq. Real money poker is enjoyed by thousands, and the gambling industry, which employs over 9,000 people and generates over $3.3 million in gaming tax revenue for the state, continues to flourish. Online poker is not mentioned in the Iowa statute and is thus open to interpretation.
Regulation Of Legal Online Poker In Iowa
Online poker rooms in Iowa meet the highest standards of security, fair gaming, fast payouts and safe payment methods. Attempts have been made to regulate the online poker industry in Iowa, but there has been opposition at numerous levels. It seems that the state may not have much choice as the race between states to introduce online poker regulations climbs a notch. If its neighbor, Illinois were to move ahead in the race, Iowa would most likely be right behind.
Best Online Poker Sites That Accept Iowa Residents
The type of legal online poker sites that accept residents from Iowa are those that fit tightly in the category of poker rooms which have learned to combine security, rewards and entertainment to perfection. Players go into their gaming sessions with complete peace of mind, knowing that these poker rooms will protect their privacy and information at all times.

Bovada - Works With Most VISA Credit/Debit Cards + Some Gift/Prepaid Cards
New players to the Kahnawake regulated online poker room, Bovada, can earn a 100% welcome bonus up to $1,000 on their first deposit, and then go on to earn top rewards through real money poker play, guaranteed tournaments, multiple promotions and much more.
Bovada Poker boasts exciting feature, including anonymous tables, multiple language play, Mac software and a number of tournament formats. Accounts can be funded safely and quickly through a number of deposit methods supported by the site, while 24/7 chat customer support is provided.
Final Thought About The Iowa Online Poker Laws
Iowa is currently sitting on the fence between hanging on to outdated gambling laws and moving forward to a regulated market. Until legislators make up their minds about the direction the state wishes to go (despite the obvious advantages of embracing online poker), players in this state have no hesitation playing at a wide number of internet based poker sites available to them. Read more about legal online poker in the USA on our homepage and throughout the rest of this site.