Online Poker Laws In Minnesota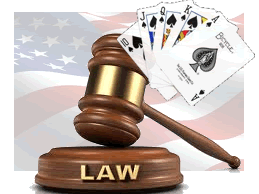 Minnesota is a blessed state to live in if you like your online poker games. Whilst online poker is still in a gray-area of legislation, many residents take to the net to fill the need to play the game. While there are a number of high profile licensed poker rooms in the state of Minnesota and with private poker nights are also legal, many prefer the convenience and that is why they play from the comfort of their own homes.
Want to get more info about the situation? Just stay right here and finish reading the rest of this page. It's going to breakdown a lot of key areas that residents living in the Land Of A Thousand Lakes should be aware of when going forward and choosing a poker site that works for their needs. We're going to guide you through all you need to know with the content below so that you are prepared to venture into online poker.
How To Play Legal Online Poker In Minnesota
All online poker sites that service American gamers accept players from Minnesota, so with that in mind, you have quite a few sites to choose from. Basically, what you need is a good PC so that you can play in either your browser or download the software to your computer.
From there, register with one of the sites; make a deposit and bingo (no pun intended), your good to go. However, you may wish to make your deposit via an e-wallet because it is notoriously hard to get your bank to release funds to an online gambling site; that is because it is still technically illegal for them to do so. You wouldn't want to attract any unwanted attention to yourself anyway.
Are There Legal Online Poker Sites That Accept Minnesota Residents?
Online poker sites that accept players from the United States love players from Minnesota. Their lenient gambling laws mean that more people are willing to play from this state, and therefore there is no reason why they shouldn't permit residents of Minnesota to play.
You must however make sure you follow the rules of the house, which means that you must be the minimum legal age to gamble in both state and poker site. This is true of any online poker site in any country though, it is even true of the state run lotteries, so this shouldn't be too big a problem for you.
Helpful Pages: USA Online Poker Sites
Is Online Poker Legal in Minnesota?
Online poker is not legal in Minnesota, but it is also not illegal. In this state, you are permitted to play poker with friends as long as the pot doesn't exceed two hundred dollars, and also as long as the owner of the house you are playing in doesn't take a cut in the profits (unless he or she wins).
You can also play poker in any one of their licensed poker rooms. But for online poker, it's still sketchy. Playing online poker is a misdemeanor offence, with practically no punishment save for a slap on the wrists. Minnesota's gambling laws are so transparent that it is one of the best states to play online poker in.
Helpful Article: Is online poker legal for US players to play online?
What Are The Online Poker Laws In Minnesota?
Minnesota is fairly soft on governing their own gambling laws, so imagine what it would be like if they were to regulate online poker sites. Sadly, they don't and at present they won't. There are no officially endorsed or regulated online poker sites in the state of Minnesota and until online poker is legalized (if it ever is), there won't be either. Online poker sites are instead regulated by third party entities and independent auditors to make sure that everything is fair and all is good with them.
The regulating of the sites is effectively what makes them trustworthy, because if you are going to be playing online poker in a state where it is kind of illegal, you can't exactly complain to anybody if you cheat you. The offshore sites regulators ensure that this doesn't happen. See more about USA poker laws on our homepage.
Regulation Of Legal Online Poker In Minnesota
Again, Minnesota doesn't regulate online poker sites and neither does any state within the United States (right now... several states are considering regulation online gambling with some already taking steps to make it happen). It is possible in the near future that Minnesota will legalize and fully regulate online poker and then there may very well be some state-run online poker sites. We'll keep you posted of any new developments when they occur.
Best Online Poker Sites That Accept Minnesota Residents
Players who reside in the state of Minnesota can play at any online poker site that offers their services to American players. When you live in Minnesota, the world is your oyster is seems for there are rich picking in regards to online poker sites. However, this can complicated the matter because with so many sites to choose from, you may end up picking one that is less prosperous for you than another.
Thankfully, one online poker site in particular offers their services to online poker players in most US states, and they are pretty transparent and generous with their offers. That online poker site is Bovada.

Bovada - Residents Of Minnesota Can Sign Up For Free; Easy Deposit Options
Bovada was established in late-2011 and they have gained a reputation for being one of the best online poker sites for taking in poker players based in the United States in just a short amount of time. They are set up across the border in Canada and have been handed their online gambling license by the Kahnawake Gaming Commission. Bovada is regulated and is one of the safest online poker sites for American players to play their poker at.
Bovada offers players plenty of advice if they are just started out at the site, and there are tournaments that are worth a couple of hundred thousand dollars in total too. Bovada has a welcome bonus of up to $1,000, available for all new players with their first deposit and also rewards you for bringing along a friend with another bonus.
Final Thought About The Minnesota Online Poker Laws
Minnesota is a real gem when compared to other states for playing online poker in. Their laws are crystal clear to understand, they aren't harsh at all, and it is as though online poker is meant to be enjoyed freely.
If you had any hesitation about playing online poker as a resident of Minnesota it should be swept away. Yes it's not "technically" legal or illegal, but the lawmakers who permit you to play poker in a licensed Minnesota poker room make no differentiation between land-based and web-based gaming which opens the door to a liberal interpretation.