Online Poker Laws In Missouri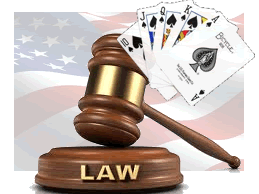 Gambling made its debut in Missouri with the early settlers, and there is evidence of games such as poker being played in saloons from the time of the Civil War. Some of the country's most famous gambling saloons such as the Ferguson's Club Saloon in Joplin are found in Missouri, with residents sentimental for those days from when the Show-Me State got its name.
While the state has tough laws governing what constitutes legal and illegal gambling, those governing online poker are murkier and certainly open to debate and interpretation.
This page will examine online poker laws and regulations in Missouri and explain how residents of the state are able to navigate laws and regulations in order to play at top notch, Missouri-friendly online poker rooms.
How To Play Legal Online Poker In Missouri
There is good number of online poker rooms offering their games and software to Missouri players. The best way to start playing at online poker room in Missouri would be to seek out top quality, legal, safe and reputable online poker rooms such as those laid out on this page. The sites have been chosen for their discretion and easy banking methods, and welcome players from Missouri with open arms. Simply register with one of these sites, make a real money deposit and start playing.
Are There Legal Online Poker Sites That Accept Missouri residents?
The online poker rooms found on this page will definitely welcome players from the great state of Missouri, as long as they meet the legal wagering age set out by the state and are not specifically banned from playing by the poker software provider. Essentially, as long as the software provider is okay with you playing at its site, you're set to go where that means playing poker for real or risking real-money on your entries.
Helpful Pages: USA Online Poker Sites
Is Online Poker Legal in Missouri?
The question of the legality of online poker in Missouri is a complex one, but generally speaking, nothing in the state's law directly addresses online gambling. Online poker operators may find themselves breaching the law making it illegal to "advance" gambling, however enforcing the law against individuals who partake in online poker is clearly of very low priority to gambling authorities. With online poker rooms maintaining very strict privacy laws, and with none of them likely to share your personal details with authorities, there should be no problem enjoying safe and discreet online poker entertainment at top notch poker rooms.
Helpful Article: Is online poker legal for USA players in all 50 states?
What Do The Online Poker Laws In Missouri Say?
All laws pertaining to poker and the legality of the game can be found in 97-33-1 et seq.; 75-76-1 et seq. The state is relatively strict when it comes to illegal gambling in locations that are not regulated by the Missouri government, allowing real money poker in regulated environments such as the state's riverboat casinos only. There are no specific laws governing online poker in Missouri. If you want to get an idea of all the USA online poker laws then go to our homepage.
Regulation Of Legal Online Poker In Missouri
While no states regulate online poker rooms just yet (and it may be a while before legislators in Missouri are convinced to do so), it is safe to assume that top Missouri online poker rooms care enough for their customers to set their own regulations to ensure a safe and secure gaming environment for all. These sites are answerable to themselves, with a sound industry reputation to maintain, and therefore go beyond the necessary in order to bring transparent, fair and legitimate online poker destinations to their customers.
Best Online Poker Sites That Accept Missouri Residents
The best legal online poker sites for Missouri residents are listed on this page, and have been carefully chosen for their winning features, including safe and convenient payment and payout features, excellent games and software, emphasis on customer support and non-stop tournament schedules.

Bovada - First Deposit Earns 100% To $1K In Bonuses Unlocked Through Play
Bovada Poker offers its players the chance to enjoy top games for free or by downloading the free software for real money games. A great range of poker variants, including Texas Hold 'em, Omaha and Seven Card stud, is on offer, while online tournaments and land event qualifiers fill the site's busy schedule.
Bovada Poker rewards new and returning players alike with lucrative bonuses and promotions, cash back offers and more. Brisk traffic ensures a large player pool and exciting competition 24/7.
Final Thought About The Missouri Online Poker Laws
Since online gambling burst onto the scene in the 1990's, poker fans from Missouri have taken their favorite game online and enjoy convenient and safe online poker action at a number of chosen sites. While state laws touch on the legality of gambling and what defines this pastime, online gambling isn't specifically mentioned and therefore offers players a useful loophole when seeking out online poker in Missouri.