Online Poker Laws + Regulation In New Hampshire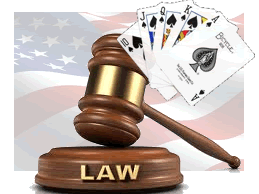 There are two factors that make gambling and poker popular pastimes in New Hampshire. The first is a set of relatively liberal laws governing the state's gambling industry, and the other is that there seems to be a move in the direction of online gambling at a faster pace than other states on average. Online poker laws in New Hampshire are open to interpretation, based on the fact that they aren't particularly clear about what games constitute unlawful activities. With that in mind, online poker players in New Hampshire have no problem with opening real money accounts at legal online poker sites and enjoying a wide range of games and tournaments offered to them.
Most issues pertaining to legal online poker in New Hampshire are covered on this page. This incorporates how to play online in New Hampshire and which sites welcome New Hampshire residents. It examines issues pertaining to legalization and regulation of the online poker industry, and gives a broad definition of the online poker laws in the Granite State.
How To Play Legal Online Poker In New Hampshire
To find out how to play online poker in New Hampshire – or any state for that matter – should be no problem, with all the basics covered in multiple sites, books and articles on the subject. The question, though, should rather be WHERE to play online poker in New Hampshire. To make sure that you are playing a high level of online poker, where matters of security, rewards and entertainment are taken seriously, check out the sites listed on this page.
Are There Legal Online Poker Sites That Accept New Hampshire Residents?
If you are of legal gambling age in New Hampshire, and the online software provider of the site you wish to play at has no problem accepting you as a real money online poker player, then there is absolutely nothing stopping you from signing up today and enjoying the game online.
Helpful Pages: Best Online Poker Sites accepting USA Players
Is Online Poker Legal in New Hampshire?
There is nothing on the New Hampshire law books which make specific reference to online gambling and online poker. While some may take this to mean that online poker could be unlawful for players by default under existing gambling laws, others interpret it to mean that they are not breaking any specific law when seeking out good, industry reputable legal online poker sites in New Hampshire. It also helps to know that online poker rooms will never reveal a player's identity or personal information to any third party, including the authorities.
Helpful Article: Is poker legal?
What Do The Online Poker Laws In New Hampshire Say?
As the first state to introduce a state lottery in 1963, New Hampshire has a reasonably liberal approach to gambling and poker. Under state code 647.2; 284.1 et seq., poker games can be played in locations run by licensed charitable operations. The state also allows state lottery play and pari-mutuel wagering at licensed racetracks across New Hampshire.
Regulation Of Legal Online Poker In New Hampshire
Many gambling analysts believe that New Hampshire may be one of the first states to regulate its online gambling industry. Concrete efforts have been made to take at least part of the industry online, including (albeit failed) efforts to offer online lottery. Several years ago, Governor Lynch even hinted that his office would support regulated online gambling and poker. Based on this, many are optimistic about the possibility of online poker regulations in New Hampshire.
Lack of regulation for now, however, has not stopped players from demanding high standards from the poker rooms they play at, and this has resulted in poker sites offering some of the toughest security and privacy standards around.
Best Online Poker Sites That Accept New Hampshire Residents
It remains clear that legal online poker sites which accept New Hampshire residents are those which place special emphasis on safety, security and support, as well as on top bonuses, promotions and rewards. These sites won't compromise on providing their players with a secure and entertaining gaming platform.

Bovada - Omaha, 7 Card Stud & Texas Hold'Em (No-Limit, Pot, Fixed) Games
An extremely popular online poker site for New Hampshire residents, as well as US players in general, is Bovada Poker, the brand which burst onto the scene in 2011 and promises top notch poker entertainment from every angle you look.
In terms of rewards, Bovada Poker's 100% welcome bonus is considered very generous, and players continue to enjoy promos, specials and loyalty points as they return for more. Entertainment is 24/7, with cash games and tournaments running at all levels on a platform that attracts multiple players.
Uncompromising security levels, easy deposit methods and fast payouts make this site a must for discerning poker players.
Final Thought About The New Hampshire Online Poker Laws
There is no strong opposition block to gambling in New Hampshire which makes this state a perfect candidate to take the next step into a legalized and regulated online poker industry. In the meantime, online poker players in New Hampshire know where to find sterling sites where real money poker is offered, where their safety and privacy are guaranteed, and where they can be sure to receive great payouts and a listening ear through 24/7 customer support.