Online Poker Laws In South Dakota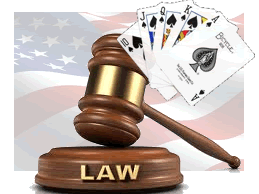 South Dakota's online poker laws are not all harps and roses and are considered some of the most aggressive in the country. Having said that, residents of the Mount Rushmore state will find a fair number of legal gambling and poker options available to them. Mention of internet gambling is made in rules governing South Dakota's industry, however, they are more geared towards gambling operators. Overall, it seems that the priority of the authorities is clearly to prevent illegal gambling operators and significantly less the actual act of gambling.
This page acts as the ultimate guide to legal online poker in South Dakota. It shows players where to play online in the state, and which sites welcome them as players. The page helps poker fans navigate the laws governing gambling in South Dakota, and examines the issue of regulation and online poker in the state.
How To Play Legal Online Poker In South Dakota
Taken literally, the answer to the question of how to play online poker in South Dakota is the same as how one would play it in any other state: Find a suitable online poker room, register with your personal details, open a real money account, make a deposit and start playing. But if we backtrack to the first point of finding a suitable online poker room, it's worth giving that some extra thought.
Find a poker site which not only gives you the games and bonuses that appeal to you, but also the security and privacy that are so important to you. Check out the sites listed on this page to get an idea of what a secure and recommended online poker site should look like.
Are There Legal Online Poker Sites That Accept South Dakota Residents?
You need to ask the question: Does the online poker software company which powers the online poker site accept players from South Dakota? The chances are that it certainly does, and if so, you're ok to play. Also make sure that you are of legal gambling age, which – for South Dakota residents - is 18 or 21, depending on which games you want to play.
Helpful Pages: Best Online Poker Sites That Accept USA Players
Is Online Poker Legal in South Dakota?
South Dakota is one of the few states which mention online gambling in its laws governing the industry. However, what is important to note is that it criminalizes those who operate an online gambling site and makes no mention of online gambling or poker from the perspective of a player. There are those who consider the general laws governing gambling to include online poker playing by default, but this has not stopped South Dakota residents from playing at self regulated, industry leading online poker sites.
Helpful Article about legal online poker: Is online poker legal in the U.S.A.?
What Do The Online Poker Laws In South Dakota Say?
South Dakota authorities aren't big fans of unregulated gambling activities, and have rolled out the relevant state code (22-25-1 et seq.; 42-7-47) to outline what it considers acceptable and unacceptable. The state operates a lottery, and allows commercial and tribal casinos where poker is offered, as well as pari mutual wagering on live horse racing.
Regulation Of Legal Online Poker In South Dakota
Like many states around the country, online poker regulation is an issue which hasn't been touched on by legislators, and it seems that this is not a topic that will be voted on for some time. In 2011, the governor hinted that he was willing to learn more about the benefits of the industry, but nothing has come out of that statement since then. Until such time as South Dakota regulates its online poker industry, poker rooms will continue to go the independent regulation route, setting and maintaining very high standards and ensuring safe and fast payouts.
Best Online Poker Sites That Accept South Dakota Residents
An online poker site that accepts South Dakota residents will undoubtedly place tight security, excellence in customer support and fair gaming at the top of its list of priorities.

Bovada: The Founding Fathers Would Agree, Bovada Is #1 For Legal Poker In SD
Play poker at one of the best US facing online poker rooms in the industry – Bovada Poker. This site allows you to earn up to $1,000 when you take your seat at real money tables for the first time, and will continue to reward you well when you return, through refer-a-friend bonuses, guaranteed tournaments, loyalty points, regular specials and more.
Enjoy unique features such as multiple language software, Mac friendly software, new tournament formats and anonymous tables. Bovada Poker is fully regulated by the Kahnawake Gaming Commission and promises the highest of standards across the board.
Final Thought About The South Dakota Online Poker Laws
South Dakota remains, for now, one of those states where online gambling and poker is not an issue worthy of discussion. The fact cannot be ignored, however, that thousands of South Dakota residents are keen to play the many different variants of poker found online, especially with the limitations available 'on the ground'. As such, it is pleasing to note that these players from South Dakota find what they are looking for at reputable, highly recommended, regulated and legal online poker sites.