Online Poker Laws In Indiana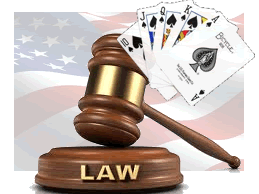 Much like some of the other states you read about, Indiana is probably somewhere on middle ground when it comes to offering gambling to its residents. On the one hand it isn't heavily into disapproving the pastime outright, and offers a fair numbers of casino gaming and poker opportunities on the ground, but on the other hand, its law books are pretty strict when it comes to anything unregulated. From this landscape has developed thousands of poker fans from Indiana who enjoy playing the game and actively seek out industry-reputable sites to play at.
This page examines how to play online poker in Indiana, whether Indiana residents are welcome at online poker sites, whether online poker is legal in Indiana, a broad view of Indiana poker laws, legal online poker sites that accept Indiana residents and the chances of regulating the poker industry. In other words, we cover everything you need to know about legal online poker in Indiana.
How To Play Legal Online Poker In Indiana
Even if you're fairly new to the world of poker, you'll soon understand that the act of actually opening an account at an online poker room and starting to play is the same if you were playing online poker in Indiana or any other state.
What you do need to take into account , however, is that it's not wise to open an account at just any poker room. Check out this page for examples of online poker rooms that not only serve Indiana residents, but are also noted for their trustworthiness, industry reputation and high levels of security.
Are There Legal Online Poker Sites That Accept Indiana residents?
Yes. Indiana residents are welcome at a surprisingly large number of online poker sites. The final say in whether or not you are welcome as a resident of the Hoosier State comes down to the software provider of the site, and many of the top brands in the industry have absolutely no problem with you playing there. Just a word of caution: make sure that you meet the legal gambling age for Indiana – 18.
Helpful Pages: List Of Online Poker Sites For USA Players
Is Online Poker Legal in Indiana?
Here's something strange: Indiana is one of the only states in the US which actually mentions online gambling in its law books. BUT, the law only addresses those who operate betting sites, and makes no reference to the legalities of the issue from the player's point of view. As such, there is nothing that relates to the do's and don'ts of online poker playing in Indiana legislation, a fact that has spurned many to try out the wide range of online poker options open to Indiana residents. Adding to the stampede is the fact that online poker rooms never divulge their players' private information to the authorities or other third party.
Helpful Article: Is poker legal for US players?
What Do The Online Poker Laws In Indiana Say?
Indiana gambling law essentially makes it ok to play the game at commercial casinos and at charity events, even for real money. They're not too happy about unregulated poker games, even home events. Gambling laws in Indiana are governed by state code 35-45-5-1 et seq. and make no mention of online poker from a player's perspective. Go to the homepage of OnlinePokerLaws.com to read more about the laws in general.
Regulation Of Legal Online Poker In Indiana
The conservative state of Indiana won't be rushing out to embrace the regulation of online poker or gambling at its own initiative any time soon, but on the other hand, it seems that the state may be open to the effects of outside pressure and go with the flow if its neighbors start the process of regulation. Until such time, residents of this state hoping to find quality poker rooms manage to find many independently regulated sits which maintain the highest levels of security and privacy.
Best Online Poker Sites That Accept Indiana Residents
An online poker room which accepts players from Indiana will undoubtedly be one which is powered by the biggest names in the industry, which has a reputation to protect and which therefore makes no compromises when it comes to fair gaming, transparency, responsible gambling and fast payouts. Good customer service is also a priority to these sites.

Bovada - $1000 In Welcome Bonuses Available; 100% Match Of First Deposit
Bovada Poker, licensed by the Kahnawake Gaming Commission, is a fully legal and legitimate online poker site and has been in operation and offering services to players based in the United States for a number of years.
Bovada Poker has one of the most generous welcome bonuses of any online poker site offering their services to Indiana players, and treats all first timers to a welcome bonus of up to $1,000 when they make their first deposit at the site.
Players can also reap an additional bonus by inviting a friend to play at Bovada Poker. Any player based in Indiana that is seeking an award winning, fair and safe poker site with plenty of bonuses would do well to play at Bovada Poker.
Final Thought About The Indiana Online Poker Laws
Indiana residents make up a strong following of poker fans from the US as a whole, enjoying the game at commercial casinos in the state and online poker rooms in cyberspace. The range of sites open to them continues to grow, with one of the main attractions being top rewards through welcome bonuses, guaranteed jackpots and loyalty points. Throw in the convenience factor of playing poker online, and it's easy to understand the appeal of internet poker to Indiana residents.