Online Poker Laws In Pennsylvania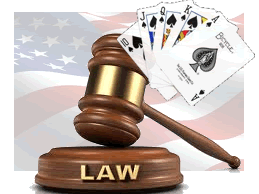 The state of Pennsylvania takes a reasonably relaxed attitude towards gambling in general, and poker in particular. While there are, of course, laws governing gambling in Pennsylvania, they are considered vague and complicated, with a lot open to interpretation and very little chance of players facing any type of liability for "illegal gambling" (although even this term is not fully explained under the law). In addition, with no specific laws against online poker in the Keystone State, poker fans regularly enjoy top quality real money poker playing on the internet at safe sites.
This page outlines the various online poker options available to Pennsylvania online poker players, showing them how and where to play the game online, explaining the legal status of online poker in the state and guiding them when it comes to choosing the best legal online poker sites in Pennsylvania. We will tell you what the online poker laws in the state mean and what things are at risk.
How To Play Legal Online Poker In Pennsylvania
While there are many US friendly online poker sites, not all of them are able to provide you with a safe and trustworthy gaming destination. Your first step when choosing an online poker site in Pennsylvania is examining the quality sites listed on this page which check off all the right boxes when it comes to games selection, software, and, importantly, safety and security. Once you have found an online poker room which meets all these requirements, you simply register with the site by providing your personal details, make a deposit and you're ready for good quality online poker.
Are There Legal Online Poker Sites That Accept Pennsylvania residents?
As long as the software provider for the online poker room which you chose to play at has no problem with you opening an account and playing real money games AND as long as you meet the legal wagering age requirements of your state, there should be no reason why you, as a Pennsylvania resident, are not welcome at an online poker room.
Helpful Pages: Best Online Poker Sites That Accept USA Players
Is Online Poker Legal in Pennsylvania?
Nowhere in Pennsylvania's gambling laws will you see the subject of online gambling or online poker mentioned. Naturally, many believe that this is open to de facto interpretation; however facts on the ground clearly show that players are not likely to face any liability for gambling or playing poker online, simply because they are not in any way violating a direct law which prohibits online gambling in any way. Generally speaking, if you sign up with an online poker room which is willing to accept you as a player, you can rest assured that the highest levels of discretion and privacy will be used, and your information will never be shared with the authorities.
Helpful Article about legal online poker: Is online poker legal in the U.S.A.?
What Do The Online Poker Laws In Pennsylvania Say?
Poker laws in Pennsylvania are covered by 8§5513 et seq.; 4§325.101 et seq. Players are offered a wide variety of regulated poker options to choose from, most of them located at the many casinos and horse tracks dotted around the state. Despite the fairly wide-spread availability of gambling in Pennsylvania (the State Lottery, horse race betting, Vegas style casino games), it was only in 2010 that casinos were allowed to offer table games such as poker and blackjack. There are no specific laws forbidding online poker play in Pennsylvania.
Regulation Of Legal Online Poker In Pennsylvania
While neighboring states such as Delaware and New Jersey seem to be heading fast for online poker regulation, Pennsylvania seems to have adopted a 'wait and see' attitude and to be in no hurry to regulate its industry just yet. As such, it has been left up to individual online poker rooms to maintain high standards of transparency, fairness and security and Pennsylvania online poker players are able to enjoy the standards set by these self-regulated poker rooms
Best Online Poker Sites That Accept Pennsylvania Residents
Only the best legal online poker sites that accept Pennsylvania residents are listed on this site, all handpicked for their quality features, safe platforms, emphasis on top customer support and industry leading software providers.

Bovada - All Users That Are At Least 18 Years Old Accepted From Pennsylvania
Players looking for a 24/7 top notch online poker destination which rolls out multiple variants of poker to all levels of players, should head to Bovada Poker, operated by the same group which runs the Bodog brand. This site offers real money cash games, multiple tournaments and the chance to qualify for prestigious land poker events through satellites. All new players get to claim a 100% welcome bonus when they first sign up, while regular promotions and loyalty incentives keep members coming back for more.
Final Thought About The Pennsylvania Online Poker Laws
Legal online poker for Pennsylvania players, in a nutshell, is that there are plenty of options available to them, especially at sites which offer them top rewards, entertainment and security. State laws don't serve as an obstacle to those seeking out online poker in Pennsylvania, and are easily side stepped due to ambiguity and the simple fact that online gambling is simply not mentioned in the law books.