Online Poker Laws In Massachusetts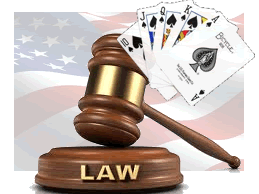 The Massachusetts poker laws are not that hard to understand and we are here to help you understand the legalities of playing legal online poker in the state. With its high number of residents, many of whom have a penchant for gambling; Massachusetts offers a broad range of gambling options, including commercial casinos, tribal casinos and a state lottery.  Poker is a popular pastime among players, both at terrestrial casinos and at online poker rooms.  As in many states across the US, the laws governing online poker in Massachusetts are murky, and, considering that most of these laws in the Bay State are over 100 years old, it seems almost certain that nobody is able or willing to prosecute online poker players.
This page brings some of the latest information about legal online poker in Massachusetts to players, showing them how to play online, how to choose a good online poker room, how to understand the laws and regulations of poker in Massachusetts and providing an overall synopsis of the current status of the game in the state.
How to Play Online Poker in Massachusetts
When choosing a good online poker site in Massachusetts, the general rule of thumb is not to sign up at the first site which catches your eye.  Take the time to check out the best sites available to Massachusetts residents, such as those listed on this page, which provide a safe and secure gaming environment, as well as an entertaining and rewarding experience for players.  Once the ideal site has been located, the rest is simple: Sign up with your personal details at the poker room, make a real money deposit and start enjoying all that the site has to offer.
Do all legal online poker sites accept Massachusetts Residents?
With their love for the game of poker, residents of Massachusetts have had no problem finding online poker rooms that welcome them with open arms.  Of course, these residents would need to meet certain requirements, such as the minimum legal age to wager set by the state.  But when it all comes to down it, as long as the software provider gives the green light for the player to open an account and start playing, there is nothing stopping him or her from doing so.
Helpful Pages: List Of USA Online Poker Sites
Is Online Poker Legal in Massachusetts?
There are very few states in the US where online gambling is specifically made illegal by law, and thankfully Massachusetts is not one of them.  There is no law in the state which explicitly rules out gambling over the internet, and this expands to online poker playing as well.  Several attempts in the past to criminalize online poker playing by legislators failed miserably. Experience shows that Massachusetts players feel secure at online poker rooms, knowing that their details would not be given out to third parties, and that their privacy is always assured by these sites.
Helpful Article: Is online poker legal for US players to play online?
Broad View of Massachusetts Online Poker Laws
Massachusetts gambling and poker are governed by the state's gambling laws, state code 271§1 et seq.; 128A§1 et seq. which allow the game to be played in a regulated environment.  Massachusetts makes allowances for real money poker games in commercial casinos or in charitable events, and has a history of a relaxed attitude to individuals who have tried to bypass these laws.
Online Poker Regulation in Massachusetts
While some gambling analysts say that Massachusetts is in the running for a regulated online poker environment within the next few years, online poker rooms have taken the initiative to produce their own high standards of regulation and offer players safe gaming platforms, responsible gambling features and an emphasis on customer support and fast payouts in the meantime.
Legal online poker sites that accept Massachusetts residents
Legal online poker sites that accept Massachusetts residents are well-regulated, have a sterling industry reputation and ensure that safety and security are their number one priority.  They are also powered by heavy duty software providers and boast plenty of poker variants and a large player pool.

Bovada Poker Room - Best Legal Poker Site For Massachusetts Residents
Since 2011, Bovada Poker has been a constant presence in the online poker world, serving as a natural US-friendly poker destination for thousands of players.  Operated by the same group responsible for the Bodog brand, Bovada Poker is a powerful poker room in its own right, bringing players multiple variants of the game, including Texas Hold 'em and Omaha, as well as 24/7 tournaments, cash games, satellites and qualifiers.  The site's 100% welcome bonus is considered among the most generous in the industry, and players will find games at all different levels and multiple wagering options.
Closing Thoughts About The Online Poker Laws In Massachusetts
The legalities of online poker in Massachusetts are regularly thrown around like yo-yos by politicians and social groups.  What can be said for certain is that online poker players in this state have long stopped waiting for legislators to make up their mind and have a wide range of safe, well-regulated and popular online poker rooms at their disposal to enjoy their favorite pastime over the internet.