Online Poker Laws + Regulation In Mississippi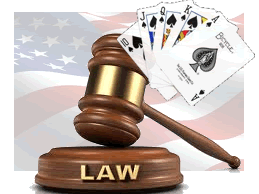 Mississippi is a kind of gambling misnomer and they are not as strict as some online poker laws in the U.S.. On the one hand, it is one of only several states in the US which doesn't run a state lottery, but on the hand, it is the home of the historical gambling riverboats, and has a strong presence of commercial casinos in its midst. Further, while Mississippi's gambling laws are considered fairly strict in the general scheme of things, its legislation doesn't address the issue of online gambling at all. Based on so many grey areas in Mississippi's gambling laws, it comes as no surprise that plenty of poker fans seek out top online poker rooms and enjoy legal online poker in Mississippi.
Those looking for information about legal online poker in Mississippi will find it on this page. They'll learn how to play online poker in Mississippi, how to recognize which sites welcome residents of the state, understand the laws and regulation governing poker in the Magnolia State and how to find top notch online poker sites.
How To Play Legal Online Poker In Mississippi
The short of it is this: Find an online poker site that welcomes online poker players from Mississippi, sign up as a player, make a deposit, and start playing. The better way of going about it, however, is to ensure that the site you want to sign up with checks all the right boxes in terms of security, industry-reputation, payment methods and payouts. Look out for more info about tried and tested Mississippi-friendly online poker rooms on this page.
Are There Legal Online Poker Sites That Accept Mississippi Residents?
Yes. Mississippi residents are welcome at online poker sites although, obviously, you'll need to make sure by checking the small print at specific sites. If the software provider of the poker room has a policy to accept players from your area, there is nothing to stop you playing. Obviously, you'll have to be of legal gambling age and for Mississippians, that's 21 years old.
Helpful Pages: USA Online Poker Sites
Is Online Poker Legal in Mississippi?
There is no straight answer to the question of whether online poker is 'legal' in Mississippi, as it would depend on what the law clearly states. The keyword, here, is 'clearly', and Mississippi's state laws are anything but clear. If we look at the law, we see that no part of it makes direct reference to gambling (or poker) online.
On the other hand, some may presume that, by default, online poker is included in the list of prohibited games. This ambiguity does not stand in the way of players enjoying online poker in Mississippi, especially in an environment which does practically nothing to enforce penalties against individual players, and especially since online poker sites have airtight privacy policies which means that your information is never shared with authorities.
Helpful Article: Is online poker legal for USA players in all 50 states?
What Do The Online Poker Laws In Mississippi Say?
Mississippi poker laws are covered by state code 97-33-1 et seq., 75-76-1 which provides a broad definition of betting and wagering. It is legal to play poker in Mississippi at a wide range of commercial casinos and tribal casinos, while online poker players seek online poker solutions at industry-recognized sites.
Regulation Of Legal Online Poker In Mississippi
Some of the country's biggest names in land gambling have a presence in the Mississippi gambling market, and they regularly put pressure on lawmakers to regulate the industry. With this type of pressure comes opposition from other factors, and it may be a while until we see a change in the current status. Online poker sites that serve Mississippi residents have taken it upon themselves to self-regulate and carry standards of security and fair gaming that most recognized gambling jurisdictions would have no hesitation demanding from their licensees.
Best Online Poker Sites That Accept Mississippi Residents
It's easy to recognize legal online poker site that accept Mississippi residents. They are the ones who are confident in their standards of security and entertainment, who are big on responsible gambling, who have a wide range of games and whose software providers are top of the line.

Bovada - Deposit Money Into Account Via VISA, Western Union or Moneygram
The ultimate site for Mississippi residents, and US players in general, is Bovada Poker. This unique interactive poker room is run by the same experienced team behind Bodog Poker, so you can understand the high standards and special features offered on this top platform.
Safety, security and customer support are at the top of the site's list of priorities, and bonuses abound, starting with the generous 100% sign up bonus up to $1,000. Special features include multi tabling, resizable tables, anonymous play and more. The tournament schedule runs around the clock and offers multiple options to all types of players, at different skill levels.
Final Thought About The Mississippi Online Poker Laws
Mississippi is probably bang in the middle of the chart that measures states' stance on gambling and poker. While gambling legislation is strict, Mississippi still has a good reputation for being tolerant on the rights of gamblers to enjoy their favorite pastimes – poker included. Online poker players thus take advantage of the many good sites offered to them and enjoy top rewards.