Online Poker Laws In Texas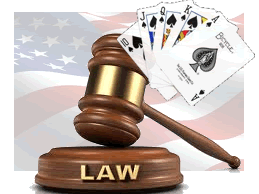 Everything is bigger in Texas. That is unless you are talking about the internet poker laws in Texas that do not exist. One would think that Texas Hold Em games would be running wild in the state where the game was founded. But the reality is; Texas is one of a handful of states yet to allow legalized brick and mortar casinos. You can find one actual casino that is located on an Indian reservation in Maverick County, Texas. I guess if any place in Texas were to have a casino, it may as well be the name; Maverick.
While the brick and mortar laws are somewhat antiquated and only apply to live poker, there are little to no regulations in regards to online poker. This mostly conservative state has yet to realize the full potential of allowing legalized and regulated poker games in their state. To the credit of Texas, they have always strayed from the norm of other states, and if you ask most people that live there, they will tell you they aren't part of the U.S.A.
Most Texas residents like to think of themselves as their own governing country in a sense. There have been numerous attempts to break away and secede from the "Colony", but none have gained any steam.
If you are afraid to play online poker, you will find that this article will dissolve those fears. We will cover all major laws that revolve around online poker and poker in general. It will also outline how to play online poker Texas and sites that accept players from your state.
How To Play Legal Online Poker In Texas
If you live in Texas and want to play online poker for real money, all you need to do is find a place to play. You can easily find a handful of sites that will accept players from Texas and offer quality games with easy to use deposit methods.
Are There Legal Online Poker Sites That Accept Texas Residents?
A large portion of today's online poker sites will not accept players who reside in Texas. But, they also will not accept any player from the United States as well. The sites that do remain available to the United States will most definitely allow and welcome Texas residents on their site. Change wording? maybe to be more positive than stating about sites not accepting Texas players.
Helpful Pages: Best Online Poker Sites That Accept U.S.A. Players
Is Online Poker Legal in Texas?
This question is rather simple to answer to be frank. With absolute certainty, I can tell you that online poker is legal in Texas. There is no law that states a resident of Texas cannot partake in a game of online poker. While politicians may try to make you think otherwise, there is nothing to be afraid of when choosing to play online poker.
Helpful Article about legal online poker: Is USA online poker legal ?
What Do The Online Poker Laws In Texas Say?
The only real laws on the books are in regards to land based poker rooms. For some time, no casinos have been allowed to offer poker games other than the one mentioned above. Many constituents of Texas do not want casinos in their state as they fear the unknown.
Recent bills have been proposed to allow poker games, but with minor limitations. One of those would be putting a cap on the amount a buy in for a tournament can be, at $100. Other stipulations would only allow pre-existing reservation casinos, bingo halls and lotteries to offer poker.
Regulation Of Legal Online Poker In Texas
There are no specific laws or regulations in regards to online poker in Texas as of yet. However, the bill mentioned above does have a part that would outlaw online poker if the bill passed. That's the bad news. The good news is; this bill has been turned down before and it doesn't look as though it will be passed anytime soon. If it does, there will likely be changes that would reflect online poker.
Best Online Poker Sites That Accept Texas Residents
The online poker room listed below is the very best one accepting Texas players. It doesn't cost a thing to sign up and deposits are always easy... something we demand. Check it out and see what other options for online gambling which users can put to use.

Bovada - Does Everything Bigger Like Bonuses; 100% To $1,000: 1st Deposit
Bovada was built with American and Texas players in mind and they offer a wide variety of games, tournaments and promotions to make them a solid option for any player.
New players from Texas at Bovada can receive a generous sign up bonus worth up to $1,000 by making a first time real money deposit. Once you're a member, you can start to enjoy more bonuses and one of the easiest cashiers to use online. They have deposit options that work and are 100% safe.
Final Thought About The Texas Online Poker Laws
For Texas residents, playing the game that was born in your state should be a birthright. Unfortunately, today's world does not see it the same as us. You can still play poker online whenever you choose at a handful of decent sites.
You should never worry about getting in trouble for playing online poker in Texas as there are no laws that state online poker is illegal. No one has been arrested or even charged with a crime related playing online poker.