Online Poker Laws In New Mexico - Is Poker Legal?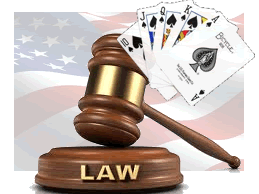 Online poker is not technically legal in New Mexico, nor is it illegal because of the lack of online poker laws in the state. There are laws in place that forbid the placing of bets through unregulated means. This would include online poker. However, the law continues to define a bet as being an agreement of monetary value between two parties involving an outcome of chance. Chance is the key word here, and we look at the Department of Justice's decision to call poker a game of skill, we can deduce that a bet placed on poker is not one of chance, therefore making it legal.
Still need more? Well this page is dedicated to covering all aspects of online poker in New Mexico including laws, regulation and the poker sites that welcome NM players. Get help and suggestions on where to play and more in the remainder of this article.
How To Play Legal Online Poker In New Mexico
Residents of New Mexico actually do not need much other than the desire to begin playing online poker. The process is simple and the first step is always finding where you want to play. A number of factors can influence this but the #1 should be safety. New Mexico residents need not worry about their well-being when choosing any of the sites listed on OnlinePokerLaws.com simply because we've already weeded out all the bad ones.
Once you've made a selection, simply click the name or a banner to go straight to the sign up page. Registering only takes a few seconds and it's always free. You only pay when you decide to play for real-money which means making a deposit.
Are There Legal Online Poker Sites That Accept New Mexico residents?
Yes, in fact just about every online poker room that takes residents of the United States allow New Mexico citizens to register and play online. Plus, New Mexico players are not as limited with their deposit methods such as residents of other states which means getting started is super easy and will not take much time.
Helpful Pages: Best Online Poker Sites For USA Players
Is Online Poker Legal in New Mexico?
Online poker is neither legal or illegal in New Mexico because the laws (more below) don't say anything about the activity. Like most states, New Mexico is a place where gaming laws strictly cover land-based options but neglect to cover the online arena.
So is online poker legal or not? We lean towards "yes" because players have no chance of getting into trouble when using the sites that accept them. Of course, players should go ahead and consult a legal professional should they have further questions as they are more skilled with New Mexico statutes.
Helpful Article about legal online poker: Is online poker legal?
What Do The Online Poker Laws In New Mexico Say?
New Mexico allows tribal gaming and state lotteries, but they aren't as prevalent as you would find in places such as: New Mexico or California. Most tribal and commercial casinos in the state allow poker to be played making it a legal form of gambling. There are no onliner poker laws or anything else really that deals with online gambling in New Mexico.
With that said, the state of New Mexico makes no distinction on poker versus online poker which means it falls into a gray area. Still, with nothing on the books there is no way to ever prosecute anyone for playing online and if they did, it would be unconstitutional.
Regulation Of Legal Online Poker In New Mexico
The process of regulating online poker in New Mexico is moving at a slow pace. There seems to be no rush to pass any bills and the outcome remains in the air. It's unlikely New Mexico would pass any such regulation on its own due to one major factor.
While New Mexico is a large state in size, it has a relatively small population of roughly 2 million. This is not enough to sustain any type of feasible online poker community. For online poker to work in New Mexico, they would likely have to tag along with a nearby state and pool players.
Best Online Poker Sites That Accept New Mexico Residents
Your current choices to play online poker legally in New Mexico are limited to what they once were. However, this does not mean you can't find a safe and secure room that has a lot to offer. Many of the rooms available to you will be more than suitable and comparable to other major rooms online.

Bovada - From The Four Corners To Albequerque, All NM Players Are Allowed
Of the many rooms open to New Mexico residents, Bovada seems to be the frontrunner. They cater to the American public and have designed their company to give American players what they need. Plenty of safe and reliable deposit options along with quick withdrawals are just one of the many features in place to ensure playing online poker is once again possible.
They also have plenty of new player rewards that can be extremely valuable. For starters, they have a 100% match deposit bonus for all new depositing players. This bonus is worth up to $1,000 and easy to clear by playing at any real money cash game or tournament.
Final Thought About The New Mexico Online Poker Laws
To conclude, if you reside in New Mexico, you have more than enough places to play online poker at. Furthermore, you should no worries about ever getting in trouble by local or federal authorities for doing so. Online poker is here to stay and the current cloudiness of laws surrounding it; make it impossible for anyone to tell you that you can't enjoy the game we all love.