Online Poker Laws + Regulation In Wyoming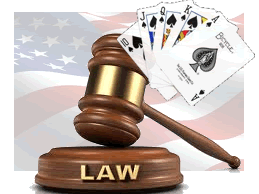 With only half a million people in its population count, it may not be the top of Wyoming's list of priorities to spend too much time and effort on its gambling industry. Nevertheless, Equality State has very strict policies which govern gambling activities and offers very few options to its residents. The laws are essentially divided between those pertaining to operators of gambling activities, including poker, and those who simply partake in these activities for the pleasure. Naturally, the laws for players are less restrictive, giving a little leeway to those seeking legal online poker in Wyoming.
If you're looking for information about legal online poker in Wyoming, this page is the first spot to begin. Learn how to play online poker in Wyoming, find out which sites welcome online poker players from the state, examine the online poker laws in Wyoming and find out the chances of them regulating an online poker industry in the near future.
How To Play Legal Online Poker In Wyoming
Playing online poker in Wyoming is no different to playing it at other sites. The main gist is to discover a good online poker room, enter your details, open an account, transfer funds and begin your online poker adventures. For those who really care about the safety of their funds and private details however, it is important to make sure that the online poker room meets the highest standards of safety, industry reputation and financial security. If you're not sure how to go about finding sites that meet these criteria, check out those listed on this page, which have been tested and found to be of the highest standards.
Are There Legal Online Poker Sites That Accept Wyoming Residents?
Absolutely. Wyoming residents are welcome at online poker sites. There are two 'buts' to this question, however. The first is 'but only if the software provider gives the green light to Wyoming residents.' Thankfully, this is more the norm than the exception that the vast majority of software providers are happy to accept you as a player. The other 'but' is 'but only if you are at least 18 years of age', which is the legal gambling age in the state.
Find them all here: Online Poker Sites That Accept USA Players
Is Online Poker Legal in Wyoming?
While laws governing terrestrial gambling in Wyoming are quite clear, there is a giant question mark when it comes to real money online poker in the state. The simple reason for this is that there are no laws that make specific mention of internet gambling, both from the operator's perspective and the individual player's.
While some believe that online gambling is in violation of the state's laws (by default), others take the lack of a specific law to mean that they are able to go ahead and play supreme 24/7 online poker games online at sites that welcome Wyoming residents. These players also know that their personal information is always kept safe and private, with no chance of the online poker room transferring their details to the authorities or other third parties.
Helpful Article about legal online poker: Is online poker legal ?
What Do The Online Poker Laws In Wyoming Say?
State laws 6-7-101 et seq.; 11-25-101 et seq are the laws governing poker in Wyoming, which does not offer a state lottery, and also denies its players commercial casinos. Tribal casinos are available; however they do not offer poker, making for a very frustrating situation for poker fans in the state. As such, many players take their poker entertainment online, where they can be assured of nonstop poker action at different skill levels, at any time of the day or night.
Regulation Of Legal Online Poker In Wyoming
There is practically zero chance of Wyoming seeking to regulate or expand online gambling and poker. Poker players don't even fool themselves that this may become a reality in the near (or far) future, and, as such, stick to their own devices. Online poker sites that serve Wyoming residents follow independent regulation policies which mean that there is no dropping of standards which cover responsible gambling, fair play and tight security.
Best Online Poker Sites That Accept Wyoming Residents
There is no question that legal online poker sites that accept Wyoming residents have the highest standards when it comes to security, support and safety. These sites are hugely popular among players, not only because of their high standards, but also because of their generous payouts and easy-to-navigate platforms.

Bovada - Play Hold'em + Bet On PBR Rodeo Finals With This WY Friendly Site
One of the best sites to serve the US poker industry these days is Bovada Poker, which stops at nothing to provide players with an all-encompassing platform. From top rewards such as its $1,000 welcome bonus, to great games such as Texas Hold 'em, Omaha and 7 Card Stud, Bovada Poker seems to intuitively know what players want out of their gaming sessions. Tournaments happen every day and every hour, with huge prizes up for grabs through guaranteed jackpots.
Download the software for free or play instantly off the browser, for free or real money.
Final Thought About The Wyoming Online Poker Laws
Wyoming's residents are not among the most pampered in the US as far as terrestrial options and liberal laws are concerned, but they are able to take their online poker entertainment online at a range of good quality poker rooms which offer them peace of mind and top notch entertainment around the clock.