Online Poker Laws In Kansas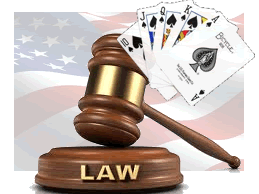 The Sunflower State is home to a diverse number of gambling options for its players, ranging from commercial casinos to tribal casinos and pari-mutuel betting. Poker is also permitted in Kansas at different locations. On the other hand, gambling laws are tough and unregulated gambling is frowned upon. Both operators and players could potentially be penalized, although, as with most states, it is the operators who mainly face the brunt of the law, and the prosecution of individual players is incredibly rare.
Online poker is a reality in Kansas, although it is important to know how to find what you are looking for. This page will explain how to play online poker in Kansas, if Kansas residents are welcome at online poker sites, if poker is legal in Kansas, the laws governing poker in Kansas, the regulation of the local poker industry and other crucial information.
How To Play Legal Online Poker In Kansas
Let's start with the simple bit. To play online poker in Kansas, you'll need to firstly find a site that accepts you as a player, secondly, sign up to the site, thirdly, make a real money deposit and, fourthly, start playing. But if we backtrack to the first point and elaborate on it, it is important to find an online poker site that meets meet the highest standards of quality and security. You don't have to look too far – check out the online poker rooms listed on this site for some of the best finds in the business.
Are There Legal Online Poker Sites That Accept Kansas Residents?
Ask yourself a couple of questions to find out whether you are welcome at online poker sites. Am I of legal age? If you are 21 years or older then you can play at online poker sites. Does the software provider of the poker room allow me to play? If the answer is yes, then you're okay to go.
Helpful Pages: List Of Online Poker Sites For USA Players
Is Online Poker Legal in Kansas?
The AG of Kansas put out a public notice in the mid-90s that his office considered online gambling as a violation of local laws. Since then, the market has grown considerably and online poker is a reality that certainly cannot be ignored. With the number of individual players prosecuted at practically nil, many poker fans happily take their gaming sessions online. It's also worth mentioning that online poker sites take it upon themselves to protect the identity and personal details of all their players all the time.
Helpful Article: Is playing online poker legal for US players?
What Do The Online Poker Laws In Kansas Say?
The gaming laws which govern the state's gambling industry are listed in state code 21-4302 et seq and 74-8801 et seq where the terms 'gambling' and 'bet' are defined. Under Kansas poker laws, you can play the game at tribal casinos and at state owned gambling locations. Poker is enjoyed across the state at land-based casinos and online.
Regulation Of Legal Online Poker In Kansas
No efforts have been made to introduce the regulation of online poker in Kansas, and therefore there has been no need for opponents to counter these attempts. With absolutely no legislative interest in online poker regulation in Kansas, it has been left up to individual poker sits to regulate themselves in terms of security, transparency and fair play. Thankfully, the vast majority of these sites have done an excellent job doing so.
Best Online Poker Sites That Accept Kansas Residents
Legal online poker sites for Kansas residents are undoubtedly those that have a sound industry reputation, which goes beyond the call of duty to guide and reward their players, and who have a significant-sized player pool to allow players to pit their skills against others at their own level.

Bovada - Open To Kansas Residents 18+; Bet On Kansas Basketball w/ Account
An online poker room which opens its doors to US players and welcomes them with a 100% match bonus up to $1,000 is certainly worth a visit. At Bovada Poker, you'll find excellent software, multiple poker variants (including Texas Hold 'em and Omaha), and a wide range of promotions, freerolls, specials and loyalty schemes. Bovada Poker's tournament schedule is filled with events at different skill levels and wagering limits and the site offers unique features such as multi tabling and anonymous tables. The entire package is rounded off with great banking methods and first class customer support.
Final Thought About The Kansas Online Poker Laws
As gambling legislation goes, Kansas seems to know the direction it wants to take, yet its poker laws really need clarification and update. Players from Kansas continue to make informed decisions about their online gambling entertainment, and, based on their knowledge of the law, play at some of the many well-established and reputable internet poker rooms that welcome Kansas poker players.