Online Poker Laws In Kentucky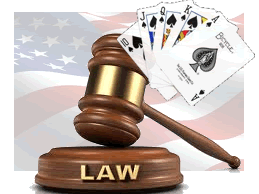 Kentucky is definitely one of the most asked about states here at www.OnlinePokerLaws.com. Gamblers in the state of Kentucky have essentially hit the jackpot when it comes to opportunities to enjoy betting entertainment.. Kentucky is first and foremost host of the Kentucky Derby, one of the hottest events on the horse racing calendar, where wagering options abound. That doesn't mean, however, that it's a gambling free-for-all in Kentucky, which still has a set of strict laws governing the industry. What many don't know, however, is that Kentucky gambling legislation goes out of its way to remove any criminal liability from players (not so for operators), a fact which is certainly appreciated by online poker players in Kentucky.
Legal online poker in Kentucky is an option, but you'll need to know how to go about making it a reality. On this page, you'll learn how to play online poker in Kentucky, which sites welcome Kentucky residents, how to navigate the laws governing gambling in general and poker in particular, and how to find the best legal Kentucky online poker rooms.
How To Play Legal Online Poker In Kentucky
The bare bones of playing online poker in Kentucky is finding a site that accepts you as a player, opening an account, funding the account and starting to play. However, if you're after something a little more "meaty", then it's definitely worthwhile checking out the sites mentioned on this page to understand that it's not enough to simply register with any site and start playing.
You'll soon understand the importance of choosing a site that is considered a good and reputable gaming destination, that combines entertainment and rewards, that supports good payment methods and, above all else, places security and fair play at the top of its list of priorities.
Are There Legal Online Poker Sites That Accept Kentucky Residents?
In order to determine whether you can be accepted at an online poker site as a Kentucky resident, find answers to two main questions: 'Does the software provider to the online poker room allow me to play there?' and 'Am I of legal age to play at a poker site?' If the answer is yes to both, there is nothing stopping you playing online at the poker room.
Helpful Pages: List Of USA Online Poker Sites
Is Online Poker Legal in Kentucky?
There are no written laws in Kentucky which pertain to online gambling, and, combined with the fact that players themselves have very little to worry about in terms of criminal liability, it is safe to say that online poker fans don't give much thought to anything else but enjoying quality games and tournaments at the range of sites available to them.
Helpful Article: Is playing online poker legal for US players?
What Do The Online Poker Laws In Kentucky Say?
For those looking to understand more about poker and gambling in Kentucky, most of it is spelled out under state code 528.010; 230.010 et seq. That's not to say that players will find much clarification regarding gambling options, with Kentucky's laws just as ambivalent as other states'.
Having said that, poker is not particularly mentioned anywhere in the law, which means that things are open to interpretation. Pari-mutuel gambling on horse and dog racing is legal, including online, while a state lottery is also run.
Regulation Of Legal Online Poker In Kentucky
Whether or not Kentucky intends to offer regulated online poker in the near future probably depends on what neighboring states do. If a race begins to start regulating online poker among these neighbors, there is no doubt that Kentucky will jump in so as not to be left behind.
However, as things seem to be relatively slow moving when it comes to poker regulation, top online poker sites have opted to go the self-regulation route – i.e. setting high standards in terms of player security, game transparency and overall safety, and ensuring that these standards are always maintained.
Best Online Poker Sites That Accept Kentucky Residents
Kentucky residents can play at legal online poker sites that are big on the three S's (safety, security and support) and that aim to entertain through multiple game variants, nonstop tournament schedules, a good range of wagering limits and lots of rewards.

Bovada - Kentucky Residents Can Play For Free/Practice or For Real-Money
Part of the online poker industry since 2011, Bovada Poker has been created especially for the US poker market and understands exactly what players are looking for in terms of games and unique features.
A hot reward program greets new players with a 100% match bonus, and continues to keep players happy with cash backs, points, promotions, freerolls and lucrative loyalty scheme. The software is sensational and the tournament schedule accessible with buy-in starting at only $1. Solid customer support and an emphasis on security complete the picture at Bovada Poker.
Final Thought About The Kentucky Online Poker Laws
Kentucky poker fans have practically free-reign when it comes to seeking out and finding quality online poker rooms. While the law certainly needs to be chiseled to make it clearer to the average man in the street, it is clear enough to Kentucky online poker players that they can play with complete peace of mind at the multiple sites that are accessible to them.