Online Poker Laws + Regulation In Utah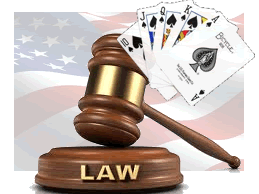 If you're a gambler at heart and happen to be based in Utah, you'll be forgiven for throwing a pity-party. Utah's gambling laws are harsh and pretty unforgiving and bear the strong imprint of Mormon influence. The Beehive State is one of only two states (Hawaii being the other) that doesn't have any form of regulated gambling in place, including a state lottery system. In addition, specific laws barring online gambling were introduced in 2012, making the issue of legal online poker in Utah a tricky one for local players. Having said all this, however, statistics show that only a nobody has ever been prosecuted for breaking the online poker laws, which seem to have a bigger bark than their bite.
This page highlights issues such as the state of legal and regulated online poker rooms in Utah. It examines whether Utah residents are welcome at online poker sites and how to go about finding these sites. You will find a broad explanation of poker laws in Utah as well.
How To Play Legal Online Poker In Utah
Playing poker online is similar to playing in a live poker room, although it entails signing up to the site and opening a real money account so that you can start playing games. Check out the sites on this page which have been tested to meet the highest levels of security and privacy, which are by the far among the most important features that a site can have.
Are There Legal Online Poker Sites That Accept Utah Residents?
It depends on the specific site you choose to play at whether or not you are welcome to play real money online poker. In the end, it is the software provider which has the final say about whether Utah residents are welcome or not. It may take some homework to check out the options available to you as a resident of Utah.
Helpful Pages: Best Online Poker Sites That Accept U.S.A. Players
Is Online Poker Legal in Utah?
Since 2012, when Utah passed its draconic Internet Gambling law specifically prohibiting gambling over the internet, online poker players in Utah have been pretty stuck in terms of legal rights and options available to them. Having said that, should Utah residents opt to take their poker entertainment online, they at least have the guarantee of these sites to never, ever disclose their personal information to any authority or third party – a fact that has allowed players from this state to essentially enjoy the only form of gambling available to them.
Helpful Article about legal online poker: Is USA online poker legal ?
What Do The Online Poker Laws In Utah Say?
Poker and gambling laws in Utah (as spelled out in state code 76-10-1101 et seq.; 4-38-1 et seq) are uncompromising and make no excuses for the fact that there simply will be none of it. As land casinos – whether or tribal or commercial –do not exist in Utah, players have no opportunity to enjoy the game in a regulated environment, explaining why so many head to cyberspace to enjoy first class poker entertainment.
Regulation Of Legal Online Poker In Utah
Since Utah 'prides' itself in the fact that it has no gambling industry to speak of, it doesn't feel the need to even discuss the topic at this point. If bets were taken to see which US state would be the last on the list to regulate its industry, we'd be rooting for Utah. With this in mind, online poker sites that accept Utahans make sure that their own standards very high, thus removing the need for industry-based regulation measures.
Best Online Poker Sites That Accept Utah Residents
Easy banking methods, fast payouts, a variety of games, expanding player pools, enticing offers and loyalty schemes and tough security: These are just some of the features you'd be looking for at legal online poker sites that accept Utah residents.

Bovada - Never Holds Playing Poker Online Or Gambling Against You...
The US facing Bovada Poker is part of the larger, industry leading Bovada brand and operated by those experts who run the Bodog brand. This platform is thus the perfect one off which to enjoy top class online poker action through many different variants of the game.
Bovada Poker boasts 24/7 game play and great traffic so that your time spent here is never dull. Cash games can be played in no limit, pot limit and fixed limit versions, while tournaments, SNGs and more add a fantastic dimension of excitement. Join Bovada Poker today and take advantage of the site's amazing 100% welcome bonus worth up to $1,000.
Final Thought About The Utah Online Poker Laws
If anything, we'll only be hearing from Utah about gambling when the race between states really heats up – and that's only to hear how much they oppose any form of this entertainment. This, however, has not dampened the hope of Utah poker players to enjoy online gaming options in their state, nor has it stopped them to seek online sites to play the game.