Online Poker Laws In Illinois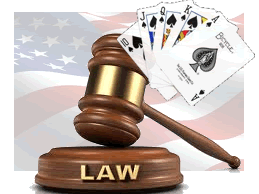 Welcome to OnlinePokerLaws.com and our Illinois poker laws page. The State of Illinois doesn't shy away from providing gambling entertainment to its players and offers a good range of options, including poker at regulated locations. Illinois politicians regularly use the issue of gambling on their agenda, which means that the question of gambling expansion on the state is always on the cards. As such, many expect for regulated online poker in the state to make progress and for it to become a reality in coming years.
Poker is a popular pastime for Illinois residents, with Chicago especially considered a buzzing hub for the game. Many state residents actively seek out their online poker activities at internet sites offering poker.
This page will go into more detail regarding legal online poker in Illinois. Specifically, which poker sites welcome poker players from the state, the question of legalities + regulations, and how Illinois residents begin playing poker on the web are going to be laid out in an easy-to-read format. So, sit back and enjoy.
How To Play Legal Online Poker In Illinois
Playing online poker in Illinois begins with the first step of finding a trusted online poker room which has a sound industry reputation. Selecting a legal, secure online poker room gives players peace of mind to deposit real money into their accounts once they have registered with the site. Once deposited, players in the state will be presented with many different game options and formats for which to satisfy all their desires.
Are There Legal Online Poker Sites That Accept Illinois residents?
It is important to seek out safe and legal online poker rooms which welcome online poker players from Illinois. The vast majority of these sites have no problem with Illinois residents registering with their sites and opening a real money account, but, of course, it's always working double checking by contacting customer support and/or reading the fine print. Naturally, those from Illinois will also have to meet the minimum legal age to play poker or gamble at the site in question, and it's up to the player to check these requirements. A rule of thumb for most seasoned online poker players is that if the poker software provider has no problem with you playing at the site, there should be nothing stopping you.
Helpful Pages: List Of Online Poker Sites For USA Players
Is Online Poker Legal in Illinois?
Despite current regulations governing online poker in Illinois, authorities have practically no interest in pursuing individual players who wager online. The likelihood of online players getting caught up in the law is practically nil as online poker rooms have very strict privacy policies and certainly don't give away their players' personal information. Above all, online poker rooms take pride in their discretion and hundreds of thousands of Illinois residents play at online poker rooms. Real money poker can also be played at licensed charitable games or in riverboat casinos.
Helpful Article: Is poker legal for US players?
What Do The Online Poker Laws In Illinois Say?
Poker and gambling laws in Illinois are governed by 18-3801 et seq.; 54-2501 et seq. and Illinois is one of the only states which specifically addresses internet gambling and poker. An updated revision of the law mentions online gambling operators and not individuals actually using the sites. It should be remembered that even in states that specifically forbid online gambling, there is nothing physically stopping players from wagering at the site unless the software provider has forbidden it.
Regulation Of Legal Online Poker In Illinois
Illinois is one of several states moving towards online poker regulation. Until this happens, it is important to note that online poker rooms aim to maintain the highest levels of security, fairness, legitimacy and trustworthiness. Good online poker rooms have no problem policing themselves with an aim to reaching and maintaining a good industry reputation.
Best Online Poker Sites That Accept Illinois Residents
The very best online poker rooms are listed on this page. The common denominator linking these sites, besides the fact that they accept Illinois players, is the fact that they have an excellent selection of poker variants, safe and convenient deposit and payout methods, great bonuses and promotions, and plenty of players to keep the tables full/tournaments running.

Bovada - Everyone (18+) From The Land Of Lincoln Are Accepted At Bovada
Bovada Poker is a wildly popular online poker room among Illinois players. Part of the industry since 2011 and run by the same guys who operate Bodog Poker, Bovada Poker offers all new players a generous 100% welcome bonus and continues to reward returning players with good promotions and cashback offers. Bovada Poker covers Texas Hold 'em, Omaha, 7 Card Stud and more through fantastic tournaments and cash games. The free poker software can be downloaded quickly and securely.
Final Thought About The Illinois Online Poker Laws
Poker has always been a favorite gambling pastime of players from Illinois, and with the advent of the internet, the game has made a natural transition to this world as well. Our general take on the issue is that online poker is a safe and realistic option for players from Illinois who meet the criteria set by software providers. While legislators continue to bicker about the legality of things, players from the this state have long discovered the excellent range of US friendly, secure and trustworthy online poker rooms available out there.