Online Poker Laws In Montana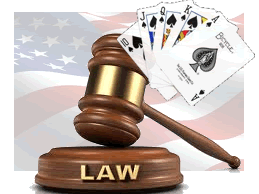 Montana may be as free spirited as the songs say when it comes to other things, but when we're talking about gambling, it's a whole different ballgame. Montana has updated its laws governing gambling that are among the toughest in the United States, clearly outlining what defines legal and illegal gambling, and, unfortunately, listing a pretty daunting list of penalties for anyone caught flouting the laws. Montana is also one of the only states which have strict prohibitions against online gambling. Having said that, there are online poker rooms willing to accept Montana residents and offer them the type of poker entertainment sorely lacking on the ground.
This page takes visitors of www.onlinepokerlaws.com by the hand and guides them through the topic of legal online poker in Montana. It examines how to play online poker in Montana, whether Montana residents are welcome at online poker sites and whether online poker is legal in Montana. It also provides a broad overview of Montana poker laws and questions the future of online poker regulation in Big Sky Country.
How To Play Legal Online Poker In Montana
Seasoned players will tell you that while it is a piece of cake to learn how to play online poker, efforts should rather be focused on where to play online poker. When we're talking about how to play online poker in Montana, you'll need to make sure that the platform you choose is big on privacy and security, and that your funds and information are well protected. Start off by checking out the sites listed on this page to find the best site for you.
Are There Legal Online Poker Sites That Accept Montana Residents?
The only thing standing between you and real money online poker entertainment at a specific site is the decision by the poker software provider regarding Montana residents being welcome at the site. If you're over 18 years of age and the software group has no problem with real money playing Montana residents, you'll be welcome at the site.
Helpful Pages: Best Online Poker Sites accepting USA Players
Is Online Poker Legal in Montana?
Unfortunately, Montana's updated gambling laws specifically address internet gambling, which also incorporates online poker. As such, players would be effectively breaking the law if they play the game online. With that in mind, however, it should be noted that many state residents have made the informed choice of playing online at top sites that welcome them, based on the fact that an online poker room maintains the highest levels of discretion and privacy, and would never pass on your information to the authorities.
Helpful Article: Is online poker legal for USA players in all 50 states?
What Do The Online Poker Laws In Montana Say?
Montana's gambling industry is governed by the tough state code 23-5-110 et seq.; 23-4-101 et seq., allowing a small range of gambling and poker variants in restricted areas. Tribal gambling is allowed in Montana, as is pari-mutuel gambling on horse and dog races. Poker can be played at tribal casinos and at charity events.
Regulation Of Legal Online Poker In Montana
The chances of Montana regulating an online poker industry are less then slim, based on current laws prohibiting it outright, on lack of public interest and on opposition to the idea by tribal casinos trying to protect their own interests. Those online pokers who do accept Montana residents keep their levels of security, fair gaming and responsible gambling at particularly high standards so that there is never a problem in all their areas for their members.
Best Online Poker Sites That Accept Montana Residents
An online poker site which serves Montana residents is one that is likely to tick all the boxes when it comes to their demands of what an online poker room should incorporate. If it's security, safety, top rewards and fast game action they're after, legal online poker sites will most definitely include all these and more.

Bovada - When You're Sick Of Beautiful Scenery Or Snow, Bovada Will Be Open
Your search for licensed, US-friendly, industry reputable and top rewarding online poker room stops here. Bovada Poker has everything that even the most discerning players are looking for, explaining the site's meteoric rise in popularity since it first launched in 2011.
Bovada Poker's software can be downloaded for free, and games such as Texas Hold 'em, Omaha, 7 Card Stud and others can be enjoyed at all wagering levels. Online poker tournaments at this site include daily and weekly events such as multi table tournaments, freerolls, poker point tourneys, qualifiers and MSG's. Bovada Poker also places strong emphasis on customer assistance, proven banking methods and secure payouts.
Final Thought About The Montana Online Poker Laws
With its mere one million residents whose legislators have made it quite clear how they feel about gambling in general, and online poker in particular, nobody is holding up much hope that things are about change for online poker players in Montana. However, it is also difficult to ignore the fact that online poker is a reality which goes beyond state borders, and a small but dedicated group of players continues to play this game at online poker sites, with full knowledge of where the law stands on this issue.