Online Poker Laws In Michigan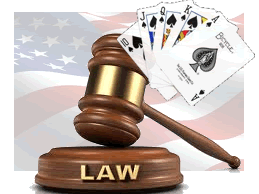 The State of Michigan offers a wide range of gambling opportunities for its residents, including the game of poker. The Wolverine State's gambling rules are rather vague, considering that there are two sets of laws relating to gambling in the state, with many regulations crossing over into each other, creating a rather murky legal landscape. In addition, while some may consider that online poker and gambling on the internet are not allowed by default, there is are no laws that expressly forbid online poker and gambling in Michigan.
This page rolls out the necessary information needed by online poker players in Michigan to navigate the rules and laws governing this pastime, and helps them find online poker rooms that serve them safely. Players will find what they need to enjoy legal, regulated and secure online poker games in Michigan.
How to Play Online Poker in Michigan
While most online poker players know the dry facts about opening an account with an internet poker room (register, deposit, play), it sometimes comes down to more than simply going through the motions. It is hugely important for online poker players in Michigan to find sites that offer them what they need in terms of a trustworthy gaming destination, with their safety and privacy taken into account. Start off your online poker journey by checking the list of poker rooms on this page for trustworthy, discreet and industry-recognized sites with the best software and games available.
Are Michigan Residents Accepted at Online Poker Sites?
Naturally, online poker rooms differ from one to another, but it can safely be said that the vast majority are quite content to welcome Michigan residents to their sites, as long as they meet the legal age limit of their state for gambling. When it all come down it, if the software provider is open to you registering and making a real money deposit at the site, there should be nothing stopping you from doing so.
Helpful Pages: USA Online Poker Sites
Is Online Poker Legal in Michigan?
In 1999, Michigan passed a law that made it illegal to gamble on the internet. Interestingly, just one year later, that law as amended and all mention of the word 'gambling' was removed. Today, there is nothing in the laws governing gambling in Michigan that makes a direct reference to online poker and online gambling sites. Coupled with the fact that gambling laws in Michigan are vague, to say the least, many online poker players from Michigan feel quite safe playing at online poker rooms, knowing that their information will never be passed on to authorities.
Helpful Article: Is online poker legal for US players to play online?
Broad View of Michigan Poker Laws
All poker and gambling laws in Michigan are governed by state code 50.301 et seq.; 432.201 et seq which defines the meaning of a 'gambling game'. Players in Michigan enjoy various forms of gambling at commercial and tribal casinos, and poker can be played for real money in tribal casinos, licensed commercial casinos and at charity events. Private poker games are also allowed. See our homepage for a broad view of all of the online poker laws in the United States.
Regulation Of Online Poker In Michigan
Michigan is showing signs of internal pressure to push for online poker regulation, and this may heat up as other states move fast in the regulation race. However, until this happens, and barring non-existing state regulations, online poker rooms in Michigan aim for the highest levels of transparency and safety for their players. With a strong industry reputation to protect and the wellbeing of their players at the top of their list of priorities, Michigan online poker rooms meet all standards of regulation.
Best Online Poker Sites That Accept Michigan Residents
Michigan poker players should seek out legal online poker sites that have their best interests in mind, in terms of excellent software, 24/7 customer support, easy payment methods and brisk traffic to ensure top entertainment. Below we have listed our top picks and the only ones that we would actually trust enough to sit at the poker tables.

Bovada Poker Room - Welcomes All Players From Michigan; Very Safe & Discreet
While there are many online poker rooms in the industry, not many manage to reach the standards offered by Bovada Poker. Launched in 2011, this site seems to know exactly what players are looking for in a gaming experience, from the many different poker variants on offer, to the non-stop tournament schedule. Top bonuses welcome players from the word go, including a generous 100% sign up bonus to superb rewards for returning players. Bovada Poker, which is run by the same group which brought the Bodog brand to the industry, is easily accessible and free to download.
Final Thought About The Online Poker Laws In Michigan
Gambling and poker are already popular in Michigan, and the state has a significant sized population which enjoys these pastimes. As such, online poker players in Michigan are able to find a good range of poker sites which accept them as members and allow them to play for real money in a safe and rewarding environment.