Online Poker Laws In California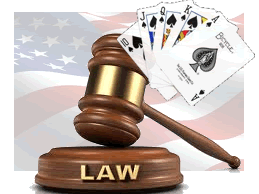 The question of online poker's legality in many states is on that is often left unanswered, and California is one of those states. For those wanting to play poker online, but are unsure of the consequences, we provide you with the answers needed to make your decision much easier.
This article will cover all you need to know about the laws regarding California's stance on online poker and poker in general. We will also discuss the future of online gaming in the state and also where you can play online in today's market.
How To Play Legal Online Poker In California
Playing online poker in California is as simple as typing in a web address. You don't need any fancy software to cover your online where a bouts. You simply need a computer, an Internet connection and a place to play online poker (which we will cover in a minute.)
Are There Legal Online Poker Sites That Accept California Residents?
Back when Black Friday hit, many sites chose not to deal with American customers. This was a CHOICE of the poker rooms, and not a forced move by the government or USA poker laws. However, there are still poker rooms online that will gladly accept American, and California players with open arms.
Helpful Pages: List Of Online Poker Sites Taking USA Players
Is Online Poker Legal in California?
This question has one simple answer and it goes like this. Online poker is not illegal in California! There are no laws on the books that specifically state playing online poker in the state of California is illegal. Many people have the misconception of why some sites won't allow American residents.
Since all poker rooms are located offshore, the California judicial system has no ruling over any of these sites. What is illegal is for American financial institutions to accept money from online gambling related websites. This is where the confusion of online pokers legality comes in to play.
Have no worries when deciding if you want to play online poker. It is 100% legal and you will never be charged with the crime of playing online poker.
Helpful Article: Is online poker legal in the United States?
What Do The Online Poker Laws In California Say?
Most forms of gambling are legal in California and this includes poker. While many states take the stance of poker being a skill game, California goes about it another way. In a live casino, poker is legal so long as the rake taken from the game is based on a flat fee. This falls under the fair odds ruling which makes it illegal for a casino to take advantage of high rates on games.
Regulation Of Legal Online Poker In California
California is one of a handful of states looking to go about their way of regulating online poker. Notice the word; "regulate", instead of legalize. Since it's not illegal, you can only regulate it.
The introduction of; SB1463 to California's Senate has been pushing the regulation of online poker since February of 2012. Its basic premise revolves around creating an intrastate structure that would allow California residents to play online poker against one another on state approved sites. The sites would be licensed through the gaming control board of California, but could be owned and operated by anyone who gets approved for a license. So long as you have a non-refundable $30 million deposit fee for the license application.
However, this bill has yet to be passed, but is looking good to do so in the future. With California's desperate need to generate revenue, online poker is a sure way of doing just that. For a state that has legalized marijuana, it's doubtful they will pass on the opportunities that online poker has.
Best Online Poker Sites That Accept California Residents
If you've been staying away from playing online poker because you thought no sites were left to take your action, you have been missing out. While the choices of available poker rooms have dwindled, you still have a decent selection of online poker rooms who accept players from California. These sites have boosted their software and promotions specifically for American players. This means there's a whole lot of free cash and some great poker still to be played.

Bovada - SoCal & NoCal Agree That Bovada Is Best For Legal Online Poker In CA
One of the best sites you can play on if you're a California resident is Bovada. They welcome players from all over and offer some very generous bonuses and perks. New members of Bovada can enjoy a 100% deposit bonus worth up to $1,000.
Depositing on Bovada is simple with many ways to fund your player account. Visa, wire transfers and Rapid Transfers are the quickest and easiest ways to get money onto your Bovada account and start playing online poker in seconds. T
he site also has terrific software for a pleasant gaming experience. You can choose to play many forms of poker including; Texas Hold 'Em, Omaha, Tournaments and even Sit N Gos'. Many of the tournaments have guaranteed prize pools reaching up to $150,000 every month.
Final Thought About The California Online Poker Laws
If you haven't been playing online poker due to the uncertainty of what may happen if you did, you should have no fears after reading this article. To further comfort or dispel any concerns you may have, let me leave you with the following statistic.
No one has ever been arrested, charged or been accused of playing online poker in the history of man-kind It's a simple fact that you will not get in any trouble for choosing to play online poker. It's your right and should be used liberally.