Delaware Online Poker Laws + Regulation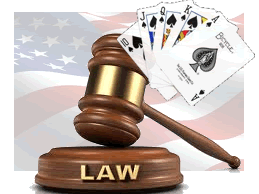 Delaware is pretty clear in its message to gamblers by having some of the toughest online poker laws in the United States: We're putting tough laws in place for all unregulated gambling and what we consider illegal gambling; but at the same time, we'll give you a wide range of regulated gambling options so that you don't feel you're missing anything – online gambling included. Individual players who do anything that may be interpreted as breaking Delaware's laws are not essentially subjected to criminal prosecution, and action against players on any level is less than miniscule. Online poker is a tricky subject in Delaware and is the subject of great debate among players trying to understand the law.
To gain a clearer picture about legal online poker in Delaware, this page examines the issue of the laws and regulation governing poker in the state. It explains how to play online poker in Delaware and examines which sites welcome players from this state.
How To Play Legal Online Poker In Delaware
Playing online poker in Delaware is no different to playing online poker in other states. Internet poker involves finding an online poker site, signing up as a member, depositing real money and playing in cash games or tournaments, with the objective to win. The only difference is, however, that these sites need to be Delaware-friendly and meet the highest levels of security and fair play. To find what you're looking for, examine the many different sites listed here which meet these standards.
Are There Legal Online Poker Sites That Accept Delaware Residents?
Online poker sites are powered by the software providers off whose poker platforms they operate. These software providers have the final say about which residents from which states can open a real money account and start playing. As such, if the online poker site's software provider is OK with Delaware residents playing at the site, there should be nothing stopping you. Naturally, you'll need to meet the minimum gambling age of the state which is 18 (or 21 for casinos and slot machines).
Helpful Pages: List Of Online Poker Sites Taking USA Players
Is Online Poker Legal in Delaware?
If you were to read the law in its driest form, at the most you'd be able to deduce that online gambling is prohibited by default. However, with minimal focus on individual poker players, the law has not stopped poker fans from Delaware playing at top notch, industry recognized online poker sites where residents are welcome. Adding to their decision is the fact that an online poker room will, under no circumstances, share their personal details with a third party, including the authorities.
Helpful Article: Is online poker legal for USA players?
What Do The Online Poker Laws In Delaware Say?
It is definitely possible to play legal poker in Delaware at specific locations such as licensed racetracks and others permitted by the law. Delaware is currently a hairbreadth away of legalizing online gambling, but it is still not clear where the issue of online poker falls within this new law, HB 333. Plenty of good online poker rooms serve Delaware residents in the meantime.
Regulation Of Legal Online Poker In Delaware
Given its great position in the race among states to introduce online gambling options, and also given its physical proximity to other pro-gambling states such as New Jersey and Pennsylvania, it is only a matter of time that online poker is regulated in Delaware. In the meantime, poker players in Delaware are able to find self-regulated sites which offer the highest levels of transparency and security, and certainly at the level they'd find in a regulated Delaware online poker industry.
Best Online Poker Sites That Allow Delaware Residents
It is not sufficient for an online poker site to accept players from Delaware. Legal online poker sites that accept Delaware residents will certainly maintain the highest levels of security, customer support, banking methods, fast payouts and responsible gambling.

Bovada - Free To Sign Up, Takes Just Minutes; VISA & Wire Transfers Accepted
Bovada Poker, part of the Bovada brand of gaming sites and operated by the same pros behind the Bodog brand, is a number one destination for US online poker players. The site offers free or real money play on some of the best games, including Texas Hold 'em, Omaha, 7 Card Stud and more.
After signing up and receiving a 100% welcome bonus, players can enter many of the tournaments on offer, including WSOP qualifiers. The site boasts unique features, such as anonymous tables and multitabling, and is big on providing customer support around the clock through multiple channels. A wide variety of banking methods are supported, while payouts are super fast.

BetOnline Poker - Welcomes All Residents Of Delaware 18+ Years Old
As a state that has proved time and again that it endorses the freedom to wager, Delaware is a perfect fit to sign up at BetOnline. Residents in Delaware are welcome to create a new account with BetOnline's poker room. Doing so will open them up to a wide variety of tournaments and cash games. BetOnline has many different types of poker options, led of course by Hold'em. That's only the tip of the iceberg though.
BetOnline is great for players who enjoy tournaments. This poker room has the largest selection of poker tournaments per day. The result is more than $250,000 won each month on the calendar. A chunk of those winnings await users! Check out BetOnline Poker and see for yourself why it's the perfect spot for a Delaware player.
5Dimes Poker - Lots Of Traffic Because Several Feeder Programs Contribute
Every type of online poker option imaginable lives at 5Dimes. This poker room recognizes the uniqueness and individuality of every potential player that comes their way. As such, the 'one size fits all approach' is not what's done here. Instead, 5Dimes takes several different approaches to cover cash games, tournaments, sit-n-go's, big limits, small limits, tournaments for beginners, tournaments for experienced players + more.
In essence, regardless of the interest or skill level that an account holder brings to 5Dimes, there is enjoyment to be had. Games that meet the quality of the player are offered, ensuring that all can find a place of comfort on site.
Regulated Poker Sites For Delaware residents - We Do Not Play Here!
New Jersey might have received the majority of attention for its online gambling legislation that was implemented in November of 2013, but Delaware actually had legal online gambling up and running on Halloween of the same year. The original legislation in Delaware was passed in June of 2012 by the signature of Governor Jack Markell. The Delaware Gaming Competitive Act of 2012 was a full eight months prior to the February 26th, 2013 signing by New Jersey Governor Chris Christie.
In total, there are three sites regulated by the state of Delaware that offer online poker as part of the system that can be played. They are Delaware Park, Dover Downs, and Harrington Raceway. The websites are regulated by the Delaware State Lottery, and are one of three states (Nevada & New Jersey) that have real-money online poker.
Delaware Park - Offers real-money casino and table games highlighted by poker. A full allotment of tournaments and tables are available for residents and visitors in Delaware. This site is open to customers 24 hours a day, seven days a week with continuous poker play for those online. Delaware Park is one of the three racinos in the state.
Dover Downs - This site is available for those in Delaware and of legal age to gamble. The Dover Downs Casino & Hotel operates the website that features real-money poker. There is a large-scale poker room with a calendar of events for each day highlighting what is available to players interested in gambling.
Harrington Raceway - Like the other two websites, Harrington Raceway is regulated by the Delaware State Lottery. The website offers real-money games as well as bonus offers for players in the state. Poker is a large part of the makeup of the site, though additional casino games are offered as well.
Final Thought About The Delaware Online Poker Laws
Giving that Delaware will be among the first states to introduce a legalized and regulated online gambling platform, it is clear that there is good news expected for online poker players, if not now then in the near future. Delaware seems to be one of the only states that recognize the importance of bringing its gambling laws up to date, which can only be a positive element for poker fans in the state. Until the state irons out its legal issues and decides where poker falls in all of this, however, Delaware residents continue to play at industry-recognized online poker sites who welcome them with open arms.