Online Poker Laws In Tennessee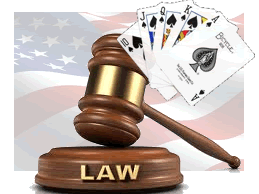 Tennessee is an oddball when it comes to the laws regarding online poker in the United States and that is because they do not really have any. Online poker is not exactly legal, but neither is it illegal as such. Tennessee does not permit gambling, but at the same time also allows home poker games! There is still however a penalty for gambling in general and this does include online poker. But truth be told nobody has ever been arrested for it and the chances are basicly 0 that you will get in any trouble at all.
While there are certainly harsher laws in tougher states as regards online poker, there are certainly more lenient ones too. Tennessee is just one of those states that kind of falls into the middle of the U.S. online poker row.
Stay with us and we're going to tell you want you need to know when it comes to playing online poker in Tennessee in terms of your safety and what you need to watch out for.
How To Play Legal Online Poker In Tennessee
Whether or not you want to play online poker is entirely up to you. A player wishing to play online poker who resides in Tennessee need only find a suit that accepts Tennessee based players (most of them do), make a deposit and begin to play.
Look for poker rooms that have the bonuses you want, with good competition across a variety of games, and one that runs a lot of tournaments plus ring games. They should have tables for all skill levels and bankroll amounts.
Are There Legal Online Poker Sites That Accept Tennessee Residents?
Yes, of course. Are they permitted by law to play at online poker sites for real money? Not technically but thousands do everyday with no trouble whatsoever. As long as the online poker site permits you to play there, and you don't have a mind of getting caught or doing anything silly like publicizing the fact that you're playing online poker, then Tennessee residents are just as capable as everyone else of playing poker online.
Helpful Pages: Best Online Poker Sites That Accept U.S.A. Players
Is Online Poker Legal in Tennessee?
Online poker is not illegal in Tennessee but it isn't regulated/legal either. All of the gambling laws of Tennessee that prohibit online poker are to disuade citizens from taking their money to offshore sites. That being said, the charge for playing online poker in the state is rather lenient and is certainly not as severe as some of its southern neighbors.
While considered a very minor misdemeanor nobody that simply plays poker online in Tennessee is ever prosecuted. Problems arise when residents go beyond being a player and start operating their own poker room whether it be in a physical structure or on the Internet. Tennessee will go after anyone that thinks they can run an unregulated poker venue without the consent of the state and that is especially true when it comes to online play. If you are thinking about developing your own software, prepare to move outside of the U.S. in order for other Tennessee residents to use it.
Helpful Article about legal online poker: Is online poker legal in the U.S.A.?
What Do The Online Poker Laws In Tennessee Say?
Tennessee takes their laws governing online poker a little more seriously than some states, but still the penalty for being caught is positively low. Tennessee in this regard is one of the more favorable states for online gambling in, even though gambling in principle is illegal. With low punishments, and what amounts to practically a zero percent conviction rate, Tennessee makes for a great place to play online poker.
Regulation Of Legal Online Poker In Tennessee
Tennessee does not however regulate online poker sites in their country, and nor could they do until they make online poker sites legal inside of the state. Because of the status of online poker in Tennessee, regulation is improbable. This makes players free to choose their own poker sites and assess the sites themselves. It is a great amount of freedom, albeit against the wishes of state law.
For now, online poker regulation will be done by third parties that poker sites use to convey safety. These are respectable companies which cannot be bought. They are like a seal of approval which players can count on. Those like the poker sites we recommend below have the thumbs up from third party auditors.
Best Online Poker Sites That Accept Tennessee Residents
The most important thing you have to know is that Tennessee is fortunate enough to have lenient gambling laws and they don't hound the poker sites operating outside of the state and U.S. whatsoever. This means that many poker sites are in favor of accepting players from the state. Most of the major online poker sites will accept players from Tennessee, so any of these will do.

Bovada - Memphis To Knoxville And All Parts In Between, TN Players Welcome!
Bovada Poker has been actively permitting players in the United States to play with them since starting up. It is fully regulated and licensed, making it safe and a legal gambling option for players in Tennessee meeting the minimum age at Bovada and in their state.
Any player who fancies their chances at online poker by playing with Bovada Poker is gifted a bonus worth up to one thousand dollars when they sign up at the online poker site, and complete their first deposit with them. Bovada Casino hosts regular big money poker tournaments, with pots sometimes valued over $100,000 to $170,000. Sometimes the pots can be even bigger. Bovada Poker also offers an excellent learning program for new players.
Final Thought About The Tennessee Online Poker Laws
If you're nervous about the risks involved with playing online poker in Tennessee, then feel free to check with your lawyer about the current rules regarding gambling in Tennessee. You needn't worry too much with this state though.
Although gambling is currently not legal in the state, you don't stand a chance of going to jail with all that is happening with poker laws changing all across the country, and in fact, you'll probably never even see that fifty dollar fine either!