Online Poker Laws + Regulation In Colorado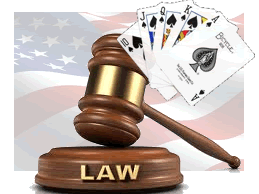 Colorado is a poker player's paradise, with no online poker laws that prevent players from playing. Although it isn't as comfortable to play here as it is in Nevada, Colorado is one of the closest things you can have to a state that permits online poker. Poker is commonly played widespread throughout the state. Colorado is more popular for their land based poker rooms (there is one that is fully licensed) and for their acceptance of home poker games; however players won't have difficulty with playing online poker either.
With the goal of this page being to answer whether or not it is legal for Colorado residents to play poker online, readers will be able to find answers they want plus learn about things to pay attention to. Stay here and we'll teach you the finer points of playing poker on the net plus list some of the best poker sites welcoming Colorado players.
How To Play Legal Online Poker In Colorado
The first thing a player should do is find an online poker site that accepts players from Colorado. Given the liberties of the state, that shouldn't be too hard to do at all. Once a player has identified the site they wish to play at, it is a simple case of registering and depositing into the poker room.
There are several ways that a player can deposit. These methods include credit card transactions with a Visa, American Express and sometimes even MasterCard. It isn't 100 percent guaranteed that a credit card will work however. There are other ways to fund an account though, such as an e-wallet. An e-wallet acts as the middleman, to transfer money from a bank account to an e-wallet, and from there, the online poker room.
Are There Legal Online Poker Sites That Accept Colorado Residents?
If you are below the minimum gambling age at either the online poker site, or in the eyes of the state of Colorado then, no; obviously you cannot play! If you're old enough to gamble in the state, and you're old enough to gamble at the site, then you are most certainly welcome at almost any online poker site that accepts players based in the United States.
Helpful Pages: List Of Online Poker Sites Taking USA Players
Is Online Poker Legal in Colorado?
The state of Colorado can be quite fickle when it comes to its gambling laws. Although poker is permitted across the state in homes or even in licensed poker rooms, the operation of a gambling site is against the law, under the Unlawful Internet Gambling Protection Act of 2006. Having said that though, the actual act of online gambling is not illegal, as the individual player is free to ply at offshore sites that accept them.
Helpful Article: Is online poker legal in the United States?
What Do The Online Poker Laws In Colorado Say?
The single licensed poker room (land-based) in Colorado is regulated by the state; however no online poker sites are regulated in any state across the U.S. When played in a licensed venue (as we previously mentioned, there is only one) poker itself is regulated and guaranteed to be fair by state auditors. Colorado has no issues with home poker games.
With no specific reference to playing poker online, Colorado residents who want to play can do so safely. This is because the activity falls into a gray area where prosecuting a resident for playing online poker would likely be unconstitutional. The online poker laws will bite anyone in the butt that decides to operate their own site; having their base of operations actually in Colorado. Players are discouraged from using any unlicensed poker venue (online or in-person) that operates in the states borders. Stick to off-shore poker sites, like the ones we've mentioned below and residents will never have to worry.
Regulation Of Legal Online Poker In Colorado
Online poker sites are not officially regulated in Colorado or any other U.S. state... right now. Residents of Colorado will take heart in knowing that the online poker sites that do offer their services to players that reside in the state and while they are not state-regulated, they are regulated/audited by independent third-parties.
These regulators perform checks and test the systems of the site to make certain that they are offering fair play, random number generators and they award their licenses and certificates based on the results of those findings. When Colorado players see seal of approval from an independent auditor, it is usually a good sign.
Best Online Poker Sites That Accept Colorado Residents
Players based in the state of Colorado can really kind of have the pick of the litter when it comes to choosing an online poker site to play at. There are plenty of sites that are willing to take Colorado's poker players and many that will compete to get them, given the liberalness of the poker laws the state adopts.

Bovada - #1 For Legal Real-Money Poker Games & Tournaments In Colorado
Bovada Poker is now one of the biggest poker sites available to players in the United States. Bovada's popularity stems not just from poker, but also from their sports and casino sites. It is actually only based just north of the border in Canada, rather than some offshore Caribbean based site. Bovada is also licensed by the Kahnawake Gaming Commission, meaning that it is legit and fully regulated.
All new players are welcomed with a 100% to $1,000 first deposit bonus after they sign up, and will also gift every player who refers a friend an additional bonus. Bovada hosts numerous tournaments every day and has special tournaments with pots worth over $150,000 every Sunday. Bovada also house beginner's tables and has plenty of guidebooks and advice for first timers.
Final Thought About The Colorado Online Poker Laws
If you are living in Colorado, count yourself fortunate. You are under practically no risks from playing online poker at virtually any online poker site in the country. There are plenty of legal online poker sites that players from Colorado can join, and can enjoy the excitement of the games that are offered.