Online Poker Laws In Ohio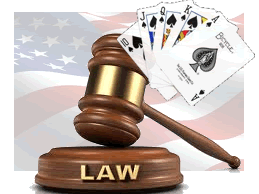 The attitude of legislators in Ohio is that residents are welcome to enjoy a wide range of gambling options, as long as they are regulated. The law is essentially set out to make all forms of gambling illegal by default, and then listing all the exceptions (of which there are many).  Having said that, the law does not specifically address online gambling – including online poker. This means that many online poker fans regularly enjoy quality online poker in Ohio at top sites.

On this page, Ohio poker players will find information on how to play online poker in the Buckeye State, which online poker rooms will welcome them, how to navigate the laws governing poker and gambling in the state and the legal status of online poker in Ohio.
How to Play legal Online Poker in Ohio
Generally speaking, players should actively seek out online poker sites which offer them the very best in terms of safety and security, reputation and entertainment.  With so much choice available out there, players shouldn't settle for anything less.  The best place to start would be to check out the online poker rooms listed on this site, which have been chosen for their high standards and suitability for online poker players in Ohio.  Once players are registered with a site, opened an account and made a real money deposit, they're set to go.
Are Ohio Residents Accepted at Online Poker Sites?
There is nothing stopping an Ohioan poker player from registering with an online poker room and playing for real money as long as the software provider accepts players from the state and as long as all the legal age limits are met.  If in any doubt, players can ask the question directly from the site's customer support team and receive a reply in no time.
Helpful Pages: Best Online Poker Sites For USA Players
Is Online Poker Legal in Ohio?
The state poker laws in Ohio do not deal with the issue of online gambling – and therefore online poker – directly which means that a player would essentially not be directly violating a law if found gambling online.  As with many gambling laws in countless states across the US, this matter is open to discussion and interpretation and there is a very grey area surrounding laws governing Internet wagering.  It is safe to say that no player is likely to get caught up with the law for playing poker online.  Online poker rooms are highly discreet and will never pass on private information of its players to state authorities.  
Helpful Article about legal online poker: Is online poker legal?
Broad View of Poker Laws In Ohio
All laws governing gambling in Ohio are covered by state law 2915.01 et seq.; 3769.01 et seq which protects the state's booming industry.  Players are able to enjoy a wide range of real money poker options at commercial casinos across the state, and the law also says that home games can be played as long as nobody benefits from the actual running of these games.
Online Poker Regulation in Ohio
There seems to be no major opposing body that will counter the attempts being made to regulate online poker in Ohio, but until this happens, online poker players in the state rely on the high standards set by online poker rooms when it comes to regulating issues such as security, payouts and customer protection.  Thankfully, the vast majority of poker rooms understand the importance of self regulation and do everything in their power to provide a safe gaming destination for their players.
Legal online poker sites that accept Ohio residents
There is no shortage of legal online poke sites that accept Ohio residents, although it can only be stressed how important it is to stick to sites that are powered by reputable software providers, that are popular among players to ensure brisk traffic, and that take issues such as safety and privacy very seriously.

Bovada Poker Room - Best Legal Poker Site For Ohio Residents
Bovada Poker is a one-stop poker destination for players seeking a multiple language client, with plenty of poker action at all levels, whether through cash games or tournaments.  Since 2011, Bovada Poker has been providing players with 24/7 online poker excitement, rewarding them well through massive welcome bonuses and cash back promotions, guaranteed tournaments and qualifiers.  This online poker room offers Texas Hold 'em, Omaha, 7 Card Stud and much more. Creating an account is simple and players can opt for free or real money gaming.
Closing Thoughts About The Online Poker Laws In Ohio
An overall examination of the legalities of online poker in Ohio shows that local players recognize the fact that Internet gambling is not specifically mentioned and therefore allow themselves to seek out quality, high level online poker entertainment at leading sites.  The range of sites available to these players, coupled with the popularity of poker in the state, make for a powerful, fast-expanding online poker industry in Ohio.