Online Poker Laws In Vermont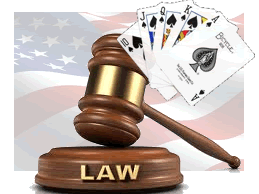 It's hard to decide just how strict the State of Vermont's gambling laws really are, considering that no actual definition of the term 'gambling' is even found on the law books. While online gambling is briefly mentioned, it is not in any way related to the act of playing poker or casino games online, making the online poker laws wide open to interpretation at every level. It can safely be said that while Vermont doesn't quite go out of its way to provide gambling opportunities for its players, it doesn't wait around dark corners in an attempt to catch them for gambling either. With this in mind, online poker fans in Vermont actively seek out top sites and play on various online poker platforms.
If you're looking for information on legal online poker in Vermont, you'll find it on this page. We'll show you how to play online poker in Vermont, which sites make Vermont residents feel welcome and what to look out for in a legal online poker site. We'll cover the laws relating to gambling in general and poker specifically in the Green Mountain State, and discuss current issues such as the regulation of Vermont's online poker industry.
How To Play Legal Online Poker In Vermont
It's not so much the question of HOW to play online poker in Vermont, and more regarding the question of WHERE. Any online poker site can stick together a few tutorials, and you'll know how to play in no time. But you need to make sure that the online poker room is more than just a few random links. It's important to find out important things such as the name of the software group behind the site, how is the site regulated and what are its security standards. Use this page as a good starting point to find the best online poker sites for Vermont players that meet all the necessary standards.
Are There Legal Online Poker Sites That Accept Vermont Residents?
The simple answer to this question is this: If the poker software provider who operates the online poker room has no objection to accepting you, a Vermont resident, to the site, then you shouldn't even have to ask the question. One caveat: Make sure that you're at least 21 years of age, which is the legal gambling age in Vermont.
Find them all here: Best Online Poker Sites That Accept U.S.A. Players
Is Online Poker Legal in Vermont?
A reading of Vermont's gambling laws shows that the only mention of any type of online gambling has to do with lottery tickets and the liability of ISPs. Absolutely no mention is made of online gambling or poker activities, either by operators or by individual players.
While this may not be construed to read that Vermont is rolling out the red carpet for online poker, it is certainly understood by many local poker fans that they can seek out legal online poker sites in Vermont and enjoy a wide range of games and tournaments 24/7. Even if the law is somewhat unclear at present, online poker sites will never agree to pass on a player's information to other parties, providing complete peace of mind for players.
Helpful Article about legal online poker: Is USA online poker legal ?
What Do The Online Poker Laws In Vermont Say?
Vermont is pretty dry when it comes to gambling options, and provides no commercial or tribal casinos for its residents, and even horse racing is a thing of the past in this state. Charitable events may be an option to enjoy some degree of poker fun, but this general lack of opportunity to play good, competitive poker at terrestrial locations has left players with no alternative but to check out their options in cyberspace.
Regulation Of Legal Online Poker In Vermont
Vermont's official lottery commission was due to report on the viability of an online gambling industry in the state by January 2013. However, that date has come and gone, and there is still no sign of online poker regulation on the horizon. While residents wait patiently for things to get moving in Vermont, they continue to enjoy top notch poker games at self-regulated sites which offer high standards and maximum security.
Best Online Poker Sites That Accept Vermont Residents
Players can rest assured that legal online poker sites that accept Vermont residents tick all the right boxes when it comes to customer support, safety, fast payouts, great bonuses and convenient banking methods.

Bovada - Special Promos & Tournaments Keep Players Coming Back For More
Bovada Poker invites players to open an account and earn themselves a massive 100% first time bonus up to $1,000! The site's poker games can be played for free or downloaded for real money play, offering variants such as Texas Hold 'em, Omaha, 7 Card Stud and many others.
The site offers a wide range of tournaments, including WSOP qualifiers, which run 24 hours a day, seven days a week. Support is offered around the clock and promotions are always changing and being upgraded for higher rewards.
Final Thought About The Vermont Online Poker Laws
Vermont may be dabbling with the idea of regulated online poker and gambling, but nothing has come out of the idea as yet. The state's attitude towards gambling is somewhat confusing and leaves many issues in limbo. Over time, and especially with the added pressure of states moving towards individual online gambling regulation, Vermont will need to decide on its own direction, but for now, legal online poker sites provide a very good solution to players seeking out super, 24/7 entertainment.