Online Poker Laws In Georgia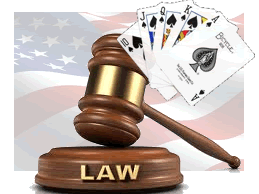 While many states carry strict but fair gambling laws, very few have truly draconian laws. Unfortunately, Georgia is one of them. The state has very little desire to provide its residents with gambling opportunities, and doesn't do more than a courtesy state lottery. Having said that, nobody can actually pinpoint a law on the books specifically dealing with online poker. As such, Georgia has a small but active online poker community of players who enjoy the game at award winning sites where they are welcome.
This page takes Georgian online poker players by the hand and shows them how to play online poker in Georgia, explains what constitutes legal and regulated poker in the state, provides an overall outline about gambling laws in Georgia and discusses how to find the best online poker room for their specific needs.
How To Play Legal Online Poker In Georgia
Playing at any online poker room, whether in Georgia or other states, requires a bit of digging around to find the best site for your specific needs. A good rule of thumb is to look out for sites which are powered by good software providers, which guarantee fast and readily available customer support, which have a good sized player pool and which offer simple to use, safe deposit methods. Check out the sites listed on this page to get an indication of how to play online poker in Georgia at top notch poker rooms.
Are There Legal Online Poker Sites That Accept Georgia residents?
The best poker software providers have no problem accepting players at the online poker rooms in their network, with one caveat that the player needs to meet the minimum wagering age set out by Georgian laws. If you have any doubts about whether you'll be able to wager for real money at a particular site, contact customer support for a quick reply.
Helpful Pages: List Of Online Poker Sites For USA Players
Is Online Poker Legal in Georgia?
This is a tricky question because of the state government's obvious disdain for gambling activities. While the law could be interpreted to include online gambling and poker among the no-no's, the fact that no specific mention of online poker is made in any of the laws is used by players in Georgia to seek out well recognized online poker sites and play safely and securely. The bottom line is that these sites have absolutely no intention of sharing their players' information with the authorities and this alone provides peace of mind for players.
Helpful Article: Is online poker legal for USA players?
What Are The Online Poker Laws in Georgia?
Governed by state code 16-12-20 et seq, the poker laws in Georgia are considered particularly archaic. Besides the state lottery, Georgia does not offer regulated commercial or tribal casinos, and therefore no table games such as poker are available in this type of setting. However, there are a number of poker clubs running in the state which allow tournament play and prizes.
Regulation Of Legal Online Poker In Georgia
With its antiquated approach to gambling in general, it doesn't seem like Georgia is going to be seeking out the regulation of online poker any time soon. As such, online poker sites in Georgia have taken the initiative to set their own bar of standards which would probably meet the requirements of the toughest gambling regulators in the industry. From responsible gambling features to fast payouts, secure payment platforms and privacy policies, online poker sites in Georgia promise – and maintain – the highest standards.
Best Online Poker Sites That Accept Georgia Residents
Legal online poker sites that accept Georgian residents will be those that place great emphasis on their customers' safety, security, privacy and entertainment. These sites will also provide excellent games and rewards.

Bovada Poker - Georgia Residents That Are 18 Years Old Can Play Here!
Over the past couple of years, Bovada Poker has received a huge 'thumbs up' among US players for providing them with a destination that manages to pack it all in. Plenty of desirable features such as anonymous screen names, automatic welcome bonuses, safe deposits and fast payouts mean that players flock to this licensed and regulated site (not by the U.S. but still...), which in turn means a busy traffic flow and plenty of action at the tables. With multiple tournaments running simultaneously at all times of the day, as well as cash games at all skill levels, Bovada Poker remains a number one site for online poker players in Georgia.
Final Thought About The Georgia Online Poker Laws
Georgia's attitude to gambling has not stopped dedicated online poker fans from the state from seeking out – and finding – a great range of legal and regulated options where they can enjoy real money internet poker games and tournaments. As long as players stick to sites with a good industry reputation and software providers, they are able to enjoy multiple online poker solutions.