Online Poker Laws In Washington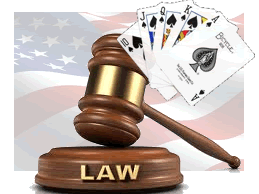 Online poker players living in the state of Washington will be happy to know that they have many options when it comes to playing. While there are no state-regulated online poker sites, there are a number of poker rooms that operate offshore that allow Washington residents to sign up, and provide a legal option to do so. The online poker laws in Washington are hard to understand and are a little different then other states.
We admit, Washington does have some of the most stringent gambling laws in the union, but we're going to help make sense of them. Sometimes the legal jargon and the letter of the law is much worse than what will actually happen. You've got to break through all the red tape and read between the lines... this page will help you do that.
As you will learn, Washington residents actually have very little at stake, other than whatever money they deposit (if playing for real-money), when going online. Yes, this contradicts what the laws say but we're going to help you understand what truly occurs.
How To Play Legal Online Poker In Washington
As just mentioned, it is possible the play online poker in Washington. By making certain that the poker site is designed to accept players from the United States including Washington, you can play online poker. Technically it is only the transfer of money from a bank account to the online poker site that is illegal, not the playing of the game itself. With that said, online poker sites know how to get around this so players can breeze through the deposit process.
Are There Legal Online Poker Sites That Accept Washington Residents?
There are always going to be poker sites that don't accept players from this place, or that. However Washington tends not to be one of their disallowed places. Any player who wishes to play in an online poker site within the United States will almost certainly be permitted to play from Washington, provided that they meet the minimum legal requirements of the gambling site; namely the one regarding how old you have to be to gamble.
Just a few poker sites do not accept Washington players so there is really nothing to worry about. In fact, those poker sites are not anywhere on this page.
Find them all here: Online Poker Sites That Accept USA Players
Is Online Poker Legal in Washington?
This depends greatly on what online poker site they are playing at. There are of course online poker sites that do not accept players from Washington, but then there are those that do accept said players. Regardless of the technicalities of state law, you are welcome to play in any site that accepts players from Washington. As long as you are the minimum age and adhere to the poker sites policies, they have no reason to deny you the opportunity to play online poker. Is online poker legal then in Washington State?
It depends entirely on the laws of the state. As mentioned, Washington claims that it isn't legal to gamble online. However, playing a game of poker online in and of itself is certainly not illegal. It is yet another small technicality. No player has ever been convicted of playing online poker in Washington however, so as long as the poker site you are playing at is safe and secure, no harm will come to you. You certainly won't be going to jail for it.
Helpful Article about legal online poker: Is USA online poker legal ?
What Do The Online Poker Laws In Washington Say?
None and some by all accounts! The Washington State Gambling Commission is there to ensure that gambling does not involve criminal activities, but online poker regulation itself is not regulated in the state. Any player's feeling jittery about whether they are committing a crime or not can always feel free to consult the Washington State laws or their lawyer before playing if they prefer.
Again, it is the transfer of money from a bank account to a gambling site that is illegal in Washington under the Unlawful Internet Gambling Enforcement Act. But this only applies to the site itself, and not the individual player. The individual players are in the clear.
Regulation Of Legal Online Poker In Washington
Not having regulated online poker sites for Washington really doesn't say much because there are no official state-regulated rooms in the entirety of the United States. With the laws being altered on a state by state basis, this could soon change and Washington may just be one of the states caught up in the movement. Only when online poker sites are operating freely in the country, can they be properly and officially regulated thus building the reputation for being legit that Washington players are looking for when risking their hard earned money.
If you are worried about dodgy sites then, take heart from the fact that most online poker sites that currently accept players from Washington are indeed regulated, just not by the United States or any state government. Instead they are regulated by third parties who ensure that fairness is guaranteed, that everything is above board and that high standards are maintained, which equal poker sites from other countries where it is legal to play.
Best Online Poker Sites That Accept Washington Residents
There is a range of online poker sites that offer great bonuses, easy deposit methods, have an age limit of eighteen years old, have excellent security, are well regulated, and have been tried and tested to be safe.

BetOnline - Bonuses For Life Via Reloads Up To 25% For As Much As $900 Each
BetOnline has had a significant presence in the United States gambling scene as far back as 1991. One of their four gambling sites is an online poker site, and this is where players based in Washington should head to play online poker. BetOnline operates out of Panama, accepting players in all 50 states in the U.S., where players from Washington meeting the minimum gambling age can legally sign up.
BetOnline poker offers you a downloadable poker room that is compatible with both PC and Mac users. They also offer hourly free rolls to all players in their domain. Deposit with a variety of methods, including American Express, Visa, wire transfer, money order, or a cashier's check. A deposit bonus for life up to 25 percent with a maximum of $900 awaits players who choose to go with BetOnline.
Final Thought About The Washington Online Poker Laws
Poker players in Washington will be able to sign up at a variety of offshore rooms that are perfectly legal to do so. These sites are some of the most trusted and highest rated sites in the world, you players can take comfort in the fact that they will receive quality service.