Maryland Online Poker Laws + Statutes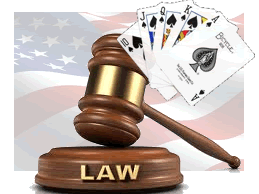 Although there are no laws strictly prohibiting online poker in Maryland, it is forbidden to host live poker tournaments. Home poker games and online poker are not regulated in the state however, but are also not illegal. The Maryland online gambling laws are non existant and the other ones do not mention online poker in any way, just like other USA online poker laws.
Whilst the playing of online poker isn't considered to be illegal the wagering or betting (gambling in general) is considered a misdemeanor in Maryland. There are no authorized poker sites for players in Maryland in regards to the law though there are online poker sites that do accept players from the state of Maryland.
Why should you trust these sites? Well, we're going to get into that more below plus get into some of the common questions that Maryland residents have when it comes to starting out. This page is going to prepare you to go into the online poker world with confidence in the fact that you are not going to get into any trouble when playing poker on the web in Maryland.
How To Play Legal Online Poker In Maryland
If one comes across an online poker site that is willing to accept players from the state of Maryland, there are one or two procedures a player a must check first before playing at said site. Firstly, a player must make certain that their computer is secure, and is not susceptible to online hacking by fraudsters.
One must also make certain that the online poker site you are planning on playing at accepts payment methods via other means than credit cards and bank transfers. Under federal law, bank transactions made for gambling are illegal; e-wallets however are not.
Are There Legal Online Poker Sites That Accept Maryland Residents?
Of course, whether or not a player situated in the state of Maryland depends on the poker site they intend to play at. This is true not just of Maryland though, but of all states and indeed all countries. Every online poker site has its own rules about who may or may not play there; but yes, there are some online poker sites that are more willing to accept players from Maryland, provided that they are above the minimum age required by the website, which is generally set to eighteen years of age in most cases.
Helpful Pages: List Of USA Online Poker Sites
Is Online Poker Legal in Maryland?
Again, although there are laws prohibiting live poker in the state of Maryland, there are no such laws prohibiting online poker or home poker as such. Similarly, whilst there is nothing to say that online poker is illegal, there is also nothing in the statues that dictate that online poker is legal either.
Although it is considered a misdemeanor to gamble in the state of Maryland, nobody has ever been prosecuted for doing so. Theoretically then, if there is no law either for or against online poker in Maryland, then as long as the poker site is permitting you to play; little harm can come of it.
Helpful Article: Is online poker legal for US players to play online?
What Do The Online Poker Laws In Maryland Say?
The laws concerning gambling in Maryland, particularly poker are strictly there to ensure that no poker businesses are set up. By this it means that the law dictates that there are no licensed poker rooms permitted in the state.
There are no such laws governing online poker, and poker played at home isn't considered against the law if it is private between friends. On that rationale then, there are few laws to stop you from playing online poker in Maryland.
Online poker is not regulated anywhere in the United States, so there are no laws to regulate online poker either. There are however Federal laws to ensure that banks are not permitted from transferring money to and from poker sites and players. Maryland banks tend to take these laws seriously and sometimes players have more difficulty when depositing than those living in more poker-friendly states.
Regulation Of Legal Online Poker In Maryland
There is no official nationwide regulation of online poker in the United States, at least at present... Maryland included. In the future, with the alteration of each state's gambling laws, the federal government could be forced to pass a law for online poker, but no such law permitting the game or regulation of the game in Maryland exist at the minute.
But with all that said, many states are already in the process of regulation online gambling, poker included, and many other states are considering legislation which allow for the regulation/legalization. Maryland being the state that it is, it probably will not be long until they are one of the states with regulation on the agenda.
For now, the online poker sites which accept Maryland residents are regulated however by independent auditors based abroad. These independent auditors ensure that everything with the online poker site is above board, and that they use random number generators to make online poker playing fair. As long as the online poker sites are being regulated by third parties, there can be no cheating on the sites.
Best Online Poker Sites That Accept Maryland Residents
There are a number of online poker sites that you can play poker at that offer their services to players based in Maryland. However, without a law stating that online poker is either legal or illegal, there is no such place that is definitively legal or illegal.
Certain technicalities will permit you to play online poker in Maryland, provided that you are above the legal age for gambling that the online poker site demands, and that you find an alternative means to deposit and withdraw money to and from the online poker site, because bank transfer between gambling sites and players are illegal. There are many e-wallets and alternative payment methods to enable you to achieve this that are commonly accepted by online poker sites.
BetOnline is one of the few online poker sites that do permit players from Maryland to play and you can learn more about this website by reading our short review we've laid out below:

BetOnline - Unlimited 15% / 25% Reload Bonuses To $900... FOR LIFE!!!
BetOnline have been in operation in the United States since 1991, and for over twenty years they have survived intact without being shut down, particularly during the harsh anti-gambling laws in the last decade.
Based in Panama City, Panama; BetOnline offers an online poker site to players based in Maryland and they have all of the features an online poker player will need. Their software is downloadable directly to your PC or Mac laptop or computer, and they offer entertaining tournaments and free rolls to their players every hour. Rather ironically, the motto of BetOnline is "because you can."
Final Thought About The Maryland Online Poker Laws
Although it is often credited as being a harsh state for poker, one must remember that this anti-poker law applies to live poker only. Without such laws either for or against online poker or home poker, Maryland can actually be seen as quite liberal and a fair place to play online poker if you reside there.
Players should have few difficulties in getting to play poker online, considering the lack of any regulation or laws for the online game. With land based poker considered a misdemeanor, and nobody ever having been prosecuted for playing online poker in the state, it is highly unlikely you are going to be reprimanded; and with the gambling laws all being amended across the country, before long online poker in the state might become legal anyway.