Online Poker Laws In Nevada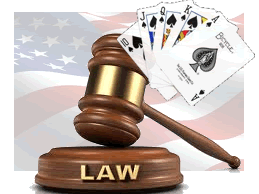 Nevada is one of the many states pushing hard to regulate online poker and get online poker laws passed throughout the country. It makes sense, since Nevada is the state that started it all in America. However, for the time being, no such laws or regulations are in place that direct specifically to online gambling for residents of Nevada.
While you may be confused or even concerned that playing online poker for real money while residing in Nevada may be illegal, your concerns should disappear after reading this article. Below, we attempt to answer all the questions you may have in regards to playing online poker. We even recommend places to play if you live in Nevada that are 100% legal and safe to play at.
How To Play Legal Online Poker In Nevada
If you played online poker before, you should be familiar with how it all works. Before Black Friday and for much of the decade, playing online poker for anyone was quite simple and safe. You simply chose a room to play at, created an account and deposited money.
If you remember how to do all that, you can play online poker in today's world as well. It works almost exactly the same with the exception of different sites to choose from. In reality, all you need is a computer and know your personal information. If you can click a few buttons and type in your information, you could be playing online poker again in minutes.
Are There Legal Online Poker Sites That Accept Nevada Residents?
Just about all sites that accept players from the U.S.A. will take players from Nevada as well. While some sites may only accept rest of world players, you can still find an abundance of poker rooms that are willingly and safely accepting players from Nevada.
In addition to that, there was a piece of legislation passed in Nevada in 2013 that allows for legal online poker to be conducted. The online poker is not unrestricted to all sites though currently, but it also opens up for the future and expansion of online gambling within the state, in particular poker since it is at the forefront of the new rules surrounding it.
Helpful Pages: Best Online Poker Sites accepting USA Players
Is Online Poker Legal in Nevada?
This question is a little tricky to answer, but there is a clear and concise conclusion that you may be happy to hear. It used to be that there were no laws in place that made online poker legal in Nevada. However, that all changed under Assembly Bill 114, which allows for limited legal online poker as it stands now. Though the precise language mentions 'interactive gaming' which leaves room for more than just poker to be deemed legal in the eyes of Nevada gaming laws.
It was definitely a big win for online poker advocates, and not only in the state of Nevada. This legislation could pave the way for other states to do this as well, and in fact, enter into an agree with Nevada to help regulate their online gaming practices as well should they want to give it the green light.
What Nevada also hopes for is the inclusion of an interstate network that would allow residents from outside the state to participate in state-regulated sites. For this to transpire, a couple of things need to happen. First, other states would have to pass online poker regulation that would set up websites within that area. Second, any states that pass online poker laws making it legal to regulate would then have to pass a law allowing for interstate sites for residents in other states in which Internet poker is legal.
The state that appears closest to this would be on the other side of the country. New Jersey has legalized online gambling in their state, with poker a large portion of that. Currently, the New Jersey online casino project caters just to residents in the state. Ideally, if the two were to work out an interstate network, then residents in both states would have access to all of the online poker sites in Nevada and New Jersey.
Helpful Article: Is poker legal?
What Do The Online Poker Laws In Nevada Say?
In short, Nevada's online poker laws say that it is now legal for Nevada residents to play online poker at regulated websites. The state of Nevada is in charge of licensing those websites and making sure they adhere to strict standards before they are offered as an option to its residents or guests. Furthermore, online poker laws in Nevada say that other states can have Nevada regulate their online poker games as well... if that is what they choose to do, but who else knows gambling better than the state of Nevada?
Regulation Of Legal Online Poker In Nevada
When it comes to online poker, Nevada was fiercely pushing to become the first state to legalize and regulate the game. Many of the top casinos have already partnered up with top names in the online industry. It was a matter of time before online poker is running rampant once again in Nevada.
And that came true with Assembly Bill 114 that legalized it in the state, albeit limited. It's still a guess as to the number of people that it will attract and it's in the infancy stage. And really those who follow the issue knew it was only a matter of time before Nevada went for it, especially given the fact that New Jersey was on top of legalizing online gambling in their state as well.
Best Online Poker Sites That Accept Nevada Residents
While playing at Poker Stars or Full Tilt is out of the question at the moment, you still have a decent amount of options that are comparable to the big names. Some of the names you may have already heard of and are not just an overnight sensation.
Many of the poker rooms available to Nevada residents have bigger bonuses and valuable promotions than you may have seen pre-Black Friday as well. The market may be smaller for choices, but the American public still wants to play poker. With a smaller number of sites competing for this business, the war to gather up players benefits you.
Bovada - Play Online Poker For Real Money In Nevada; Players Must Be 18+

One of the better sites around that has a wealth of bonuses and plenty to offer is: Bovada. This room is geared towards the American player and offers a wide selection of deposit options to make getting money on and offline relatively quick and easy.
They also have new member bonuses that can be worth up to $1,000. The tables are filled with loose and reckless players making it easy pickings for a solid player. If anyone tells you that poker is dead in America, just show them your winnings after playing at Bovada, and they will quickly retract that statement.
BetOnline - Open To Everyone In Nevada That Meet The Age To Play In State's Land-Based Rooms

One of the most popular poker rooms available to residents of Nevada which is also home to thousands of players from around the globe is BetOnline. This is a site that offers their account holders many different types of poker games spanning a variety of formats as well. No matter the type of poker player that joins BetOnline, there will be an area of the poker room that will fit what they are looking for.
BetOnline has recently formulated a new poker promotion as well. This promo offers new signups a 200 percent match bonus upon a first deposit of $50 or more into an account. To claim the bonus, users must email BetOnline (freeplay@betonline.ag) with the subject line POKERNEW, and the appropriate amount of funds will be awarded to that player to use. The maximum bonus is capped at $2,500.
Regulated Poker Sites For Nevada residents - We Do Not Play Here!

UltimatePoker - The first regulated poker site in Nevada since the passing of Nevada Assembly Bill 114 is UltimatePoker. This site gives players the full range of motion when it comes to poker that's offered. Completely regulated by the state of Nevada, players get the chance to play at a U.S.-based site. New signups can get up to a $500 bonus on their first deposit... this 100 percent match offer requires a minimum deposit of just $50 to qualify.

WSOP - Getting access to the most recognizable name is poker now comes with a real-money option. Regulated out of Nevada, WSOP.com has their newest section; playing online poker for cash. A simple download of the software is required to begin following the creation of an account. Players eligible must be at least 21 years old to play and agree to the terms and conditions established on site. A full selection of tables an tournaments covering limits that fit any budget will highlight the user-experience.
Final Thought About The Nevada Online Poker Laws
For the person who likes to play online poker and lives in Nevada, it's a good time. Although, it wasn't as if playing at an Internet poker room was difficult to do prior to the passage of the law. There were plenty of offshore sites that Nevada players could sign up for and play. But now that it's been legalized in the state under the new legislation, it opens the doors for some new and exciting developments for the game, and those who love playing it.