Online Poker Laws In Rhode Island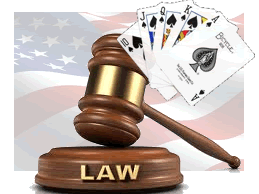 As with many states in the US, the laws governing gambling in Rhode Island are ambiguous and totally open to interpretation, covering every aspect from what constitutes gambling to penalties facing individual players and operators. To add to this salad is the perception of gambling by the general public – Rhode Island residents are not quite open to the idea of expanding its gambling industry, with two failed expansion attempts behind it; but on the other hand, the smallest state in the US has been named as a sure-partner for the neighboring Delaware which has made giant strides in the direction of intrastate online poker. Amongst all this mish-mash, many Rhode Island residents have opted to take their online poker entertainment online, trying out multiple sites that are powered by some of the biggest names in industry and receiving top rewards.
This page takes a closer look at legal online poker in Rhode Island, examining how to play poker in the Ocean State, which sites welcome Rhode Island residents, which laws govern gambling and poker in the state and the question of regulation. The poker laws are basicly non existent, so we will try our best to explain what the state laws do say about gambling and online poker.
How To Play Legal Online Poker In Rhode Island
If you ask the question in the technical sense, it is pretty straight forward to learn how to play online poker in Rhode Island. Your first step would be to find a site that welcomes you. From then on, you simply need to sign up as a member, make a real money deposit and start playing. When you're ready to withdraw your winnings, you can do so quickly and securely.
If we go beyond the technicalities, however, it's important to ensure that the site you choose doesn't compromise on its levels of security and fair play, and that you are assured a safe gaming platform. Check out the sites listed on this page to understand what constitutes a great online poker room.
Are There Legal Online Poker Sites That Accept Rhode Island Residents?
Yes, Rhode Island residents are warmly welcomed at multiple online poker sites. Essentially, you can play at any poker room where the software provider has given the green light to accept Rhode Island residents - and, thankfully, there are many of them. The other requirement, naturally, is that you meet the minimum age limit to gamble in Rhode Island, which is 18 years of age.
Helpful Pages: Best Online Poker Sites That Accept USA Players
Is Online Poker Legal in Rhode Island?
A close look at the laws governing gambling and poker Rhode Island find absolutely no mention of online gambling and online poker. Given the amount of ambiguity in the laws, some could understand this to mean that poker games played online are forbidden by default, while many believe that it means that no laws are being broken by playing poker online. Those who choose to play online poker at in Rhode Island do so with the knowledge that, as a rule, online poker sites never reveal their personal information to anybody.
Helpful Article about legal online poker: Is online poker legal in the U.S.A.?
What Do The Online Poker Laws In Rhode Island Say?
Poker laws in Rhode Island are governed by state code 11-19-1 et seq.; 41-3-1 et seq., which, as we've mentioned before, are pretty muddied and ambiguous. The state makes little provision for real money poker play for Rhode Island residents, and gambling is limited to the state lottery, racinos (where most forms of casino games are offered) and charitable bingo games and raffles. With poker opportunities rather limited to local fans, there is little wonder that many seek out – and find – top quality, varied and rewarding poker online.
Regulation Of Legal Online Poker In Rhode Island
In 2011, the state's head of lottery, Gerald Aubin, said that it was time to examine the issue of online gambling regulation in Rhode Island. While nothing has been done about this yet, it indicates that state legislators have at least considered this an option going forward.
The lack of state regulation doesn't mean that online poker sites are hanging around waiting for laws to be changed, however. It means that they double their efforts to make players feel as if they were playing at a site which meets all the requirements of tough gambling jurisdictions in terms of safety, responsible gambling, payouts and fair gaming.
Best Online Poker Sites That Accept Rhode Island Residents
It is safe to presume that legal online poker sites which accept Rhode Island residents are those which remain dedicated to maintaining the highest levels of entertainment, rewards and security.

Bovada - Prefect Fit For Rhode Island Residents That Want To Play Poker Online
Bovada Poker introduced its platform to the industry in 2011, and has continued to grow and expand ever since. This US facing poker room has hot deals running continuously, beginning with its 100% welcome bonus and following through with guaranteed tournaments, refer-a-friend specials and more.
A tournament schedule filled to the brim featuring all the games and formats that appeal to online poker players adds an attractive dimension to Bovada Poker, while top customer support, simple payment methods and top payouts show players that this is a serious-minded poker room.
Final Thought About The Rhode Island Online Poker Laws
Rhode Island's gambling laws are clearly in need for an update, considering that online gambling is a very real part of the national and international landscape right now. Until such time as legislators decide on the pace of their inclusion into this landscape, Rhode Island residents are taking their poker entertainment to online destinations and enjoying safe and impeccable online poker fun.